Kobalt is a reasonably well-known brand in North America. Even though it has a relatively short history in the industry (compared to other high-profile companies), throughout its decades of service, Kobalt has created a loyal customer base that stands by its products and their quality. Therefore, this article is for you if you're looking to upgrade your toolbox and wondering whether Kobalt is worth your investment.
Kobalt tools are of good quality and offer decent value for the price. While some higher-end alternatives might be better suited to more complex repairs, Kobalt tools are still excellent for your basic building and repair jobs. If kept in the right conditions, they can last for years.
In this article, I'll take you through an in-depth review of Kobalt tools. I'll discuss the pros and cons of the brand's products. Then, you'll learn a bit more about the company itself and whether or not these tools would provide any substantial value to you and your building projects.
Kobalt Tools Quality
In terms of quality, Kobalt tools perfectly match their price point. The perfect word to describe them is decent – while they do the job and can offer great value that aligns with their price point, they still can't be considered top-tier.
Kobalt has reached an impressive size throughout the years. However, it can't compete with industry giants like Bosch, Makita, and Milwaukee. However, the company is direct about what they offer, and it delivers on its promises.
Power Tools
Their tools are excellently-suited for minor day-to-day repair and building jobs. They're practical and easy to maneuver, not to mention beginner-friendly. Therefore, if you're just starting to fill out your toolbox, I highly recommend Kobalt.
Good-quality, reasonably-priced tools like these will help you get a better feel of what you need before making a pricey investment. However, don't expect the performance of the products to be out of this world. After all, you get what you pay for.
Still, this doesn't mean that Kobalt tools are inherently lacking in quality or durability. Their power tools' battery life and electric components are nothing to laugh at, and as long as you store them in the right conditions, you'll be able to use them for years.
Moreover, Kobalt products are highly versatile, making them perfectly fit for beginners looking to be as efficient with their investments as possible. However, be careful not to overwork these products, as their longevity will decrease significantly.
While Kobalt tools are simple to use and handle, they're not the best under immense pressure. For this reason, using them in extreme weather conditions or for extended periods might wear out quicker than you'd think.
Therefore, if you're an expert that likes (or has) to spend hours perfecting their craft or performing heavy-duty repairs, Kobalt might not be the brand for you. However, if you're a homeowner, DIY-er, or hobbyist, these tools will leave you more than satisfied.
Hand and Mechanic's Tools
Remember that the qualities I just described apply to Kobalt's power tools. However, their hand and mechanic's tools are a whole different story.
They're widely viewed as among the best in the industry, regardless of price point. However, considering their cost, the quality level becomes even more impressive, meaning you will get excellent value out of your investment.
Therefore, if you're after some basics, I'd highly recommend checking out Kobalt, whether you're a pro or an amateur.
One of the main reasons there's such a stark difference in quality between Kobalt's power tools and their hand and mechanic's tools (apart from the design complexity) is that the latter is manufactured right here in the US.
This is the time to mention that most of the brand's manufacturing is outsourced to China. However, as far as outsourced products go, Kobalt's are actually among the best ones you'll find in the market.
With that said, some engineering and quality control issues are to be expected in this instance, as the production process won't have to follow the same set of laws and regulations it would if it were in the US.
Warranties
Luckily, Kobalt offers some excellent warranties on their products regardless of origin. Remember that when it comes to warranties, the brand doesn't employ a standard practice, so you'll have to inquire about the specific contract that comes with your desired product before purchasing.
Some power tools even come with lifetime warranties, so always check beforehand to ensure you feel as secure as possible with your investment. However, when signing your warranty contract, don't forget to read the fine print, as you'll want to make sure you've followed all of the manufacturer's conditions before filing a claim.
The Pros of Kobalt Tools
The best way to determine whether a brand's products will fit your needs, wants, and budget is to compile a thorough list of pros and cons, and Kobalt is no exception. Therefore, in the following sections, I'll delve into the brand's main advantages and disadvantages to help you make the best-informed decision.
First, let's start with the pros. These are some of Kobalt tool's most significant selling points:
They're affordable. As power tools seem to become pricier by the day, Kobalt remains reasonably priced. You don't have to be a contractor with an obscene budget to access their products – almost everyone can afford Kobalt tools. It's hard to nitpick a brand and highlight its shortcomings when its qualities more than justify the price. In short, you'll get fantastic value tools when purchasing from Kobalt.
They're of decent quality. I've already gone through this topic in greater detail above, but it bears repeating. Kobalt power tools are excellent for the average homeowner or part-time repairman. Their hand and mechanic tools are even better, meaning you'll get a lot of use and excellent results from your investment.
Great warranty policies. The warranties are yet another feature I've covered, but that's just as important. Kobalt offers plenty of long-lasting warranties, which allow you to purchase with an absolute peace of mind and serve as a testament to their products' durability and longevity. However, keep in mind that the specific contract will vary from one product to another.
User-friendly. Kobalt tools are easy to handle and use. Moreover, they often come packaged in a highly secure toolbox with spacious, individually-marked shelves. Therefore, they make for one of the best beginner-friendly options, as they're easy enough to use without compromising safety or quality. Their products are ergonomically designed to fit your hand as comfortably as possible.
Wide range of products. If you're looking to build a standardized toolbox, Kobalt is just the brand to help you do so. Due to their extensive range of products, you're bound to find what you want when shopping at one of their online or physical stores. Their best-selling items include hand tools, air tools, power tools, and storage units. I'll dive more into these lines in a moment.
Comfortable materials. Kobalt always utilizes great-quality durable, yet comfortable materials regardless of their manufacturing location. The tool's handles are known for their soft yet firm feel, replicating the quality of much higher-end alternatives. Most of the materials used in their products are also combined with iron to ensure optimal strength.
Versatile. Not only does Kobalt offer a wide range of products, but each item is highly versatile as well. Therefore, even if you're on a tighter budget, you'll still be able to get a lot done around the house using just a few of their tools. That is yet another feature that contributes to Kobalt's great overall value.
Great design. Kobalt is renowned for its innovative approach to power tools, as it features some of the most comfortable and modern techniques in the industry. Therefore, if you're looking for a simple, straightforward tool that still looks and operates just as well as the options with all the bells and whistles, you can't go wrong with Kobalt.
Kobalt's Product Range
Even though I already mentioned the vast range of products that Kobalt offers, there's so much to explain about their different lines and what they offer that I figured the topic warranted a separate section. Here are some of the most popular tools you'll find when purchasing from Kobalt:
Hand Tools
Given that I've talked them up so much throughout this article, I think it's only fair to start with the brand's hand tools (as these are the ones I would most recommend trying). Whether you're an amateur homeowner or a pro, I guarantee these products will surpass your expectations.
This line includes any essential home tool you can think of, including sockets, screwdrivers, wrenches, etc. Their chisels are also some of the most highly sought-after tools for woodworkers.
Power Tools
Even though these might leave something to be desired, especially when put up against the expectations of pros, they still provide a pretty great value for their price. Most of their power tools are battery-powered. However, the larger equipment, which, as you'll see in the following paragraph, are among their most popular items, operate through electricity.
Whether you're looking for a jigsaw, miter saw, sander, polisher, hammer drill, driver, or router, you're guaranteed to find what you're looking for. However, their larger saws are usually the most sought-after by their customer base, as they're generally of significantly better quality than their other power tools.
Moreover, Kobalt sells some combo kits comprising a pre-picked selection of their best-selling power tools. While these combos aren't very varied, they'll still come in handy if you're a beginner looking for a bit of direction while building your first toolbox.
Air Tools
Even though I've failed to mention these until now, Kobalt's air tools are among their better products. However, keep in mind that this line isn't as vast as the previously mentioned ones, so your choices might be more limited.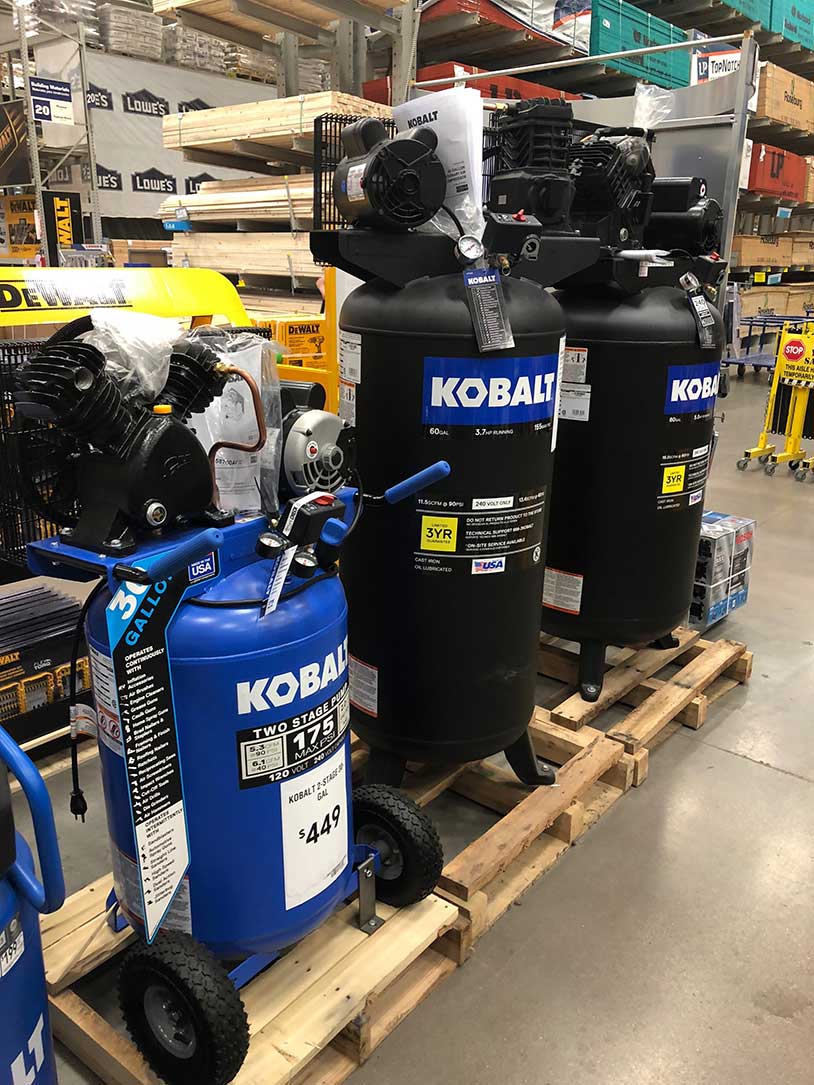 Most customers are thoroughly pleased with the Kobalt air tools' overall performance and quality. Their air compressors, in particular, are pretty highly-reviewed.
Additionally, Kobalt also sells some air impact wrenchers along with their accessories and a few good-quality air grinders.
Storage Units
Storage units are one of Kobalt's most iconic product ranges, and they often rival the sale of actual tools. Even though the brand offers a wide range of chests and cabinets, its toolboxes are among the most sought-after items they have ever launched.
Customers particularly rave about the toolbox that comes with Kobalt's mechanic's set, which is spacious, clearly marked, safe, and displays every individual tool beautifully. This particular product also comes with a spare drawer to allow its owner to store any additional equipment they might have lying around their garage.
Cons of Kobalt Tools
After covering the (honestly impressive) advantages that Kobalt offers, it's time to balance the analysis out a bit and look at some of the brand's drawbacks.
I've repeatedly mentioned throughout this article that their tools' quality, while decent, isn't the best. The same can be said of their durability. I'll cover both of these disadvantages and more in the following paragraph.
These are some of Kobalt's most significant drawbacks:
Lack of durability. If you ever need to work under harsh weather conditions or long hours, Kobalt tools aren't your best choice. While it's true that these devices can last for years if maintained properly, you don't want to be walking on eggshells when it comes to using your toolbox. Therefore, if you're a pro or looking to carry out a complex build or repair, I suggest looking at other options..
Not suitable to use in small spaces. Kobalt tools, while comfortable, are a bit bulkier than most of their competitors. For this reason, if you're working on a particularly delicate project or have to operate within a confined space, Kobalt tools might be a bit too difficult to maneuver.
Their popular toolbox can be susceptible to damage. Even though Kobalt toolboxes are highly practical and excellent for amateur builders, they're sensitive to damage when subjected to medium impact. Therefore, as with most of their power tools, you'll have to be careful while storing and using them to avoid an unpleasant accident.
Accessibility. Even though Kobalt products can be accessible price-wise, they can be hard to come across even if you live in the US. Generally speaking, the only chain store you're guaranteed to find them in is Lowe's, meaning that if you're not an avid online shopper, it might be hard to get your hands on their tools. They're not available in any other hardware stores.
Is Kobalt a Reliable Brand?
Brand trust is one of the most important factors to consider when looking for a new product. By now, we've established that Kobalt products are of decent quality and that most of them come with a long-lasting warranty contract, but how reliable are they?
Kobalt is a reliable brand. While they're not at the top of their industry, they're still an above-average company with a loyal customer base and good products. Kobalt is an excellent brand to shop from for homeowners and hobbyists looking for reasonably-priced, user-friendly tools.
As long as you're not planning to be too rough with your equipment or use it for extended periods, I see no reason why you wouldn't want to try out Kobalt's products. So if you're still on the fence, I suggest finding a tool with a great warranty and giving it a go.
Should You Get Kobalt Tools?
You should get Kobalt tools if you're a homeowner, DIY-er, or small-scale contractor. However, those working long hours or looking for specialty or premium-quality tools should instead invest in a higher-end brand.
In short, consider your preferences before deciding on whether purchasing from Kobalt will make a worthwhile investment. Ask yourself these questions:
If the answer to these questions is "Yes," you're better off looking elsewhere. If it's "No," I highly recommend giving Kobalt a try. However, as always, check out their warranty policies beforehand to ensure you'll be left satisfied.
It's essential to be honest and realistic with your expectations. As with everything else, you get what you pay for. You can't expect Craftsman quality with Kobalt prices. I recommend purchasing a few smaller sets from them but keep your go-to tools higher quality.
Conclusion
Kobalt makes decent-quality tools and sells them at a reasonable price point, so they are a value brand with a lot of promise. Their products are ideally suited for beginners, DIY-ers, and homeowners making repairs and new builds infrequently since many of their tools wouldn't stand up to construction-site wear.
The brand offers a wide range of products with excellent warranties on most of them, meaning you're bound to find what you're looking for when shopping at one of their stores.