When it comes to power tools, you have plenty to choose from in terms of brands and function. One such choice is Metabo. Considering everything else that's available, you may be curious as to whether Metabo tools are a good investment.
Metabo tools are of excellent quality and comparable to the top brands for professional-grade power tools. They have top ratings for their warranty, are preferred by professionals, and have a good selection of products. Metabo is also a leader in battery power technology and is interchangeable.
Shopping for power tools can be expensive, so you'll want to be informed enough to make a good decision based on your needs. This article will provide information about Metabo's pros and cons, whether it's worth your investment, and who makes Metabo tools. 
Pros of Metabo Tools
Cons of Metabo Tools
Are Metabo Tools For You?
Metabo tools are for you, whether you're an avid DIYer or use power tools for your trade. They have tools for building, renovation, metalworking, and industry. Metabo has products you can rely on that will suit your needs. 
Homeowner and the DIYer
Metabo has an excellent selection of products for those who enjoy DIY projects. Having tools like an impact driver, drill, and a selection of saws would be a good investment, especially for DIYers who want to tackle their home renovations themselves or build their kids a playhouse or treehouse.
Even for a homeowner doing simple home repairs, replacing light fixtures, taking apart a child's toy to replace the batteries, and the like, the right tool will make the job much easier and quicker. Metabo and Metabo HPT products are sold online and via physical merchants like your local Lowe's store.
For example, if you need a high-quality grinder, you can go with the Metabo 6″ Angle Grinder. You can choose between manual, automated, or hybrid systems depending on what you're looking for.
Metabo Long-life motor with up to 50% more torque for quicker material removal, up to 20% higher overload capacity
Electronic speed Stabilization maintains the speed of the tool for maximum productivity even under heavy operating conditions
Dead-man paddle switch function provides immediate shutdown of the motor When the paddle switch is released
There's also the Metabo ASR 35 All-Purpose Vacuum Cleaner. It's designed for cleaning up debris-filled spaces on construction sites, but you can also use it to clear your humble workshop. 
For extraction from the power tool in continuous mode, both on construction sites and in the workshop
Especially suited for Extracting concrete and rock dust - Auto clean: cost and time savings through automatic Impulse filter cleaning in continuous use Auto clean: cost and time savings through...
Compact vacuum cleaner for liquids and dry solids with commercial registration
Need an all-around nailer? The Metabo HPT Roofing Nailer may be what you're looking for. Its applications range from installing roof shingles to sticking insulation boards wherever they're needed in your home. Because it's relatively lightweight, you don't have to worry about the product accidentally damaging the area you're working on. 
On Sale
APPLICATIONS: Ideal for installation of asphalt roofing shingles and insulation boards
EASY FASTENER INSTALLATION: Side loading magazine, convenient and easy for quick replenishment
LIGHTWEIGHT: At only 5.5 Lb., the NV45AB2 is lightweight and well balanced for easy maneuverability
Building Trade and Renovation
Metabo has a great selection of corded and cordless tools to take care of your professional projects — including saws, drills, and air compressors. Metabo has better performing and longer-lasting batteries for its cordless products with its current battery technology. 
Metalworking and Industry
Metabo has produced some of the best products for metalworking and industry. The company continues to roll out new safety technology and durable, pro-grade power tools to keep up with the fast-paced building industry. The drills, cutters, grinders, saws, and the like rank high in quality, accuracy, and longevity.
Related: Are Kobalt Tools Good
Why Metabo Tools May Not Be for You
Since Metabo tools were made for professionals and tradesmen, they can be pricey. If you have a tight budget for power tools, you may want to look for a more affordable brand. A lower-cost brand may be the way to go if you rarely use power tools. However, be aware that you get what you pay for. When it comes to power tools, consider a brand that at least provides a warranty.
Are Metabo Tools Worth It?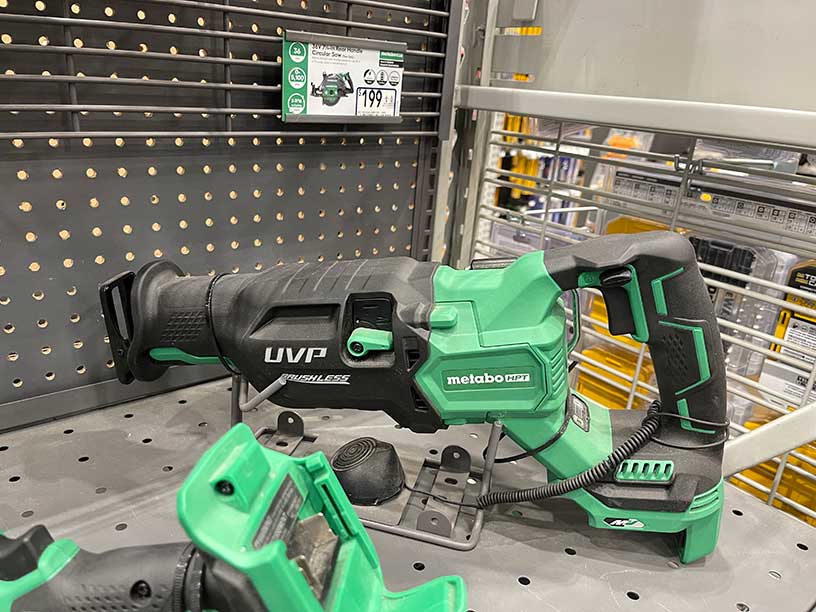 Metabo tools are worth it. Professionals and homeowners have rated the top of the line in quality and reliability for years. Both Metabo and Metabo HPT product lines are comparable to DeWalt, Makita, Bosch, and Hilti tools in quality and price.
Metabo's newer batteries have a longer life of up to 87%, with even better performance by up to 67%. These improvements can improve productivity for professionals and homeowners since they can use the batteries for much longer.
Pro Tool Reviews have rated both Metabo and Metabo HPT tools as high quality, hovering around 8+ and 9+ out of 10. While Metabo may be one of the pricier brands of power tools, you'll save money in the long run due to the durability and longevity of the products. 
Related: Are Ryobi Tools Good?
Who Are Metabo Tools Made By?
Metabo tools were made in Germany in the 1920s. These tools are highly respected and have been known to be durable, reliable, and built with tradesmen and professionals in mind. Currently, Metabo products are under Kiko Holdings Co., Ltd.
In 2015, Hitachi acquired Metabo. A few years later, KKR (Kohlberg Kravis Roberts, a global investment firm) bought out Kiko Holdings Co., Ltd, formerly part of the Hitachi group. The Hitachi tool line, along with Metabo, is now completely detached from Hitachi but still under Kiko Holdings Co., Ltd.
Metabo and Metabo HPT
Now, you may have noticed that Metabo and Metabo HPT are two different product lines. Metabo tools are commonly used by professionals in metalworking and industry. Meanwhile, Metabo HPT (Hitachi Power Tools) serves those in residential and multifamily construction.
Metabo HPT took the place of Hitachi power tools after Kiko Holdings Company branched off from Hitachi. The headquarters of both Metabo and Metabo HPT is in Japan. However, most Metabo tools are still made in Germany, and some Metabo HPT products are being made in China.
Conclusion
Even though Metabo has had new ownership twice since 2015, the tool line and quality have not suffered. You'll still see this brand being used by professionals for their job, working just as hard as the person operating it.
Metabo tools are definitely worth the investment if you're looking for tools that'll last. The warranty is still considered one of the best compared to other top brands. This company has several products rated best of their kind, and the others are also comparable to the top competitor brands.