Do you just want to know which sander works best for deck refinishing without having to read this entire article? Makita's 9403 4″ x 24″ belt sander is your best choice.
A very popular home project amongst modern DIY'ers is refinishing that old deck in the backyard that hasn't been touched for years. Decks are normally built with highly durable treated woods. They add natural beauty to your home, but only as long as you diligently sand it and reapply a protective finish.
Choosing the right sander is critical when it comes to working with such a large volume of wood. The question is, what are the best sanders for deck refinishing? Let's take a closer look at some of the intricacies of deck refinishing as well as the types of sanders you may want to use for this project.
Best sanders for deck restoration compared:
Thumbnail
Top Pick
The Runner-Up
Title
Makita 9403 4" x 24" Belt Sander, Teal
Makita BO5041K 5" Random Orbit Sander
Prime
Top Pick
Thumbnail
Title
Makita 9403 4" x 24" Belt Sander, Teal
Prime
The Runner-Up
Thumbnail
Title
Makita BO5041K 5" Random Orbit Sander
Prime
Keeping Your Wooden Deck Looking Good
No matter how experienced you are with woodworking, it is easy to imagine that exterior wood needs to be cleaned up from time to time in order to keep the appearance and integrity at its best.
Deck sanding is a critical part of that upkeep. I recall helping my grandfather as a kid when he would annually refinish his wood deck in the back yard. He did this before he reapplied a protective coating or when he needed to clean up an area that had become split or damaged.
Sanding after power washing
You might want to consider cleaning the wood with a power washer before proceeding to deck sanding. This is often done each year to help remove dirt build-up and small areas of staining that have accumulated since the last power cleaning.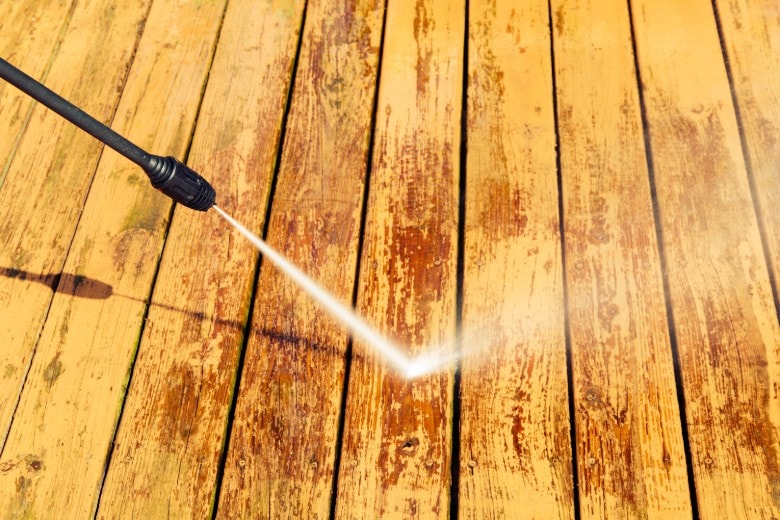 The water from the power washer will push into the wood and cause the wood grain to raise. You can use a sander to knock down that raised grain and return the surface of your deck to a smooth texture.
Sanding before refinishing
Depending upon the coatings used and the wear it receives, you will want to completely refinish your deck every few years. When the time comes, you will need to clean your deck completely and allow it to dry. From there, you can sand off the remaining topcoat and smooth the wood grain before putting on a new protective layer.
Staying Safe As You Work
You should be able to use the same safety precautions when working on your outdoor deck as you would for any of the smaller wood projects you do in your shop. It is important to remember that these precautions are just as important in the outdoors as inside for a few reasons.
First off, the dust generated as you work will be a large volume and will still irritate your eyes and lungs. Remember that most wood used on outdoor decks are chemically treated to stand up to the elements and they may have various coatings that you have applied to them previously. That makes eye protection and a dust mask or respirator mandatory.
You should also use hearing protection as you will be operating your sander for long periods of time. High powered sanders, such as belt sanders, can generate a lot of noise. Wear a pair of earmuffs or earplugs to protect your hearing and avoid developing tinnitus.
Heavy gloves will help absorb some vibration and keep your hands protected as you work on the deck. Finally, a good pair of knee pads will keep your knees from hurting as you work across the deck from one end to the other.
What Sander To Use For Deck Restoration?
Most woods used for building decks are softer woods that can be gouged or hold sanding patterns. This tends to favor random orbital sanders or oscillating deck sanders for most of us, as these tend to leave fewer marks on the surface and are easy to control.
The problem with using random orbit sanders is that they can take a long time to cover an entire deck. Many woodworkers, therefore, prefer to use a belt type of sander when working on large projects like outdoor decks.
Belt sanders offer more sandpaper contact that takes more material off and helps to keep an even surface. They are fairly easy to learn to use, so don't feel intimidated if it will be your first time using one.
Read on to learn more about the specific sander models that we believe to be the best choice for a deck refinishing project.
What Sandpaper Should You Use?
There are a variety of sandpapers available to use, but some are better suited to the task of deck sanding. The number of products available is beyond our discussion here, so I suggest making it as simple as possible.
Look for sandpaper that is designed to work on wood. Manufacturers will list this on the package. These will often use natural abrasives to remove material.
There are also a large number of grits available to use. You will want to start with a pass of 80 grit paper. This will remove material quickly and allow you to clean up rough spots, making an even surface.
You can then make a second pass using 150 grit sandpaper. That will knock down rough sections and give your deck a smooth surface to work with. Using 150 grit also keeps the wood pores open to accept a wider variety of protective coatings that may vary greatly in their viscosity.
Final Considerations
You will want the deck to stay dry throughout the process. These types of projects are best tackled during stretches of dry weather. If you get surprised by a storm or rainy day, just make sure that you allow the deck to dry completely before you continue with your work!
The 5 Best Sanders For Deck Refinishing Reviewed
And now let's take a look at five different models of sanders that I believe will work best for wood deck refinishing.
1. Makita 9403 – Best Belt Sander For Deck
Low noise (84dB) for operator comfort
4" wide belt with a speed of 1,640 ft./min. for fast material removal
Labyrinth construction seals and protects motor and bearings from dust and debris for longer tool life
OVERVIEW
This powerful belt sander runs at 1,640 feet per minute, offering a lot of abrasive contact between wood and sandpaper. A four-inch-wide belt path will cover a decent amount of wood on each pass while allowing you to reach into areas that wider sanders will struggle with.
Find More Options: Best Belt Sanders of 2023
2. Makita BO5041K – Best Random Orbital Sander For Deck
Smooth and fast sanding with 3.0 AMP motor
Variable speed control dial (4,000-12,000 OPM) enables user to match the sanding speed to the application
Ergonomic rubberized palm grip and handle for improved operator comfort
OVERVIEW
For many woodworkers, including novices, orbital sanders are easier to control than the more aggressive belt sanders. An added handle provides you with maximum control with each pass across the wood. An orbital play of 1/8th inch gives the pad plenty of movement and will help to reduce possible marking on the wood as it is sanded.
Read More: Best Random Orbital Sanders of 2023
3. DEWALT Random Orbital Sander, 5-Inch
On Sale
3.0-amp motor of the orbital sander spins the pad at 8,000 - 12,000 OPM
Shorter height of the hand sander allows the user to get closer to work piece
Separate counterweight design reduces vibration for improved comfort of the electric sander
OVERVIEW
The motor on this hand sander rotates between 8,000 and 12,000 OPMs, offering plenty of agitation against your deck wood. A 3.0 mp motor should allow you to keep that pace, even when you apply moderate pressure against the sander.
A dust seal has been placed over the switch, preventing debris from affecting the controls on the sander and extending its lifespan. Almost all features found on this model can be used with one hand, a feature that lets you make adjustments on the fly.
More Similar Options: Best Palm Sanders (2023 Review)
4. Makita Sheet Finishing Sander
Uses commonly available 4-1/2" x 9-1/8" hook-and-loop or 4-1/2" x 11" half sheet abrasive paper
Efficient through-the-pad dust collection system for a cleaner work environment
Minimized vibration and contoured grips for added comfort
OVERVIEW
This model from Makita may be ideal if you are looking to cover more wood as you sand without taking off too much at once. It is designed to use sheets on sandpaper that are locked at two ends, a feature that offers quick loading while giving play to the surface as the sander operates. The main controls are placed in easily accessible areas on the main handle.
5. TACKLIFE 3 x 21-inch Belt Sander
No products found.
OVERVIEW
This budget-friendly product gives woodworkers an economical option for working on their decks. Due to the size and weight, it can be moved around easily, allowing you to reach into areas that might be a struggle for heavier equipment. It has a narrow profile as well.
The dust box comes with two adaptors, making it easier to attach to a collection system.
Smooth Finish
Of the products listed, I believe that the Makita 4″ X 24″ Belt Sander is the best sander for deck sanding, including refinishing. The belt sanding design will allow you to finish the project more quickly than an orbital type sander will. This gives it a leg up on the orbital and sheet sanders reviewed above.
Makita's motor generates plenty of speed, moving the belt at 1,640 feet per minute. That power also allows you to apply pressure on the sander without it bogging down, unlike the other belt sander on the list.
The unit itself is easy to use and you can learn to operate it quickly. That makes this product ideal for novice and intermediate woodworkers looking to improve their wood decks.