Wood whittling is the easiest way to get into woodcarving and you can start with any knife you have lying around. However, there are specially made whittling knives that start at extremely affordable prices. These knives make whittling easier, faster, more accurate, and enjoyable.
I went and looked for the best whittling knives out there and found that the Morakniv Wood Carving 120 Knife is the best whittling knife for the money. You must read on if you want to know why.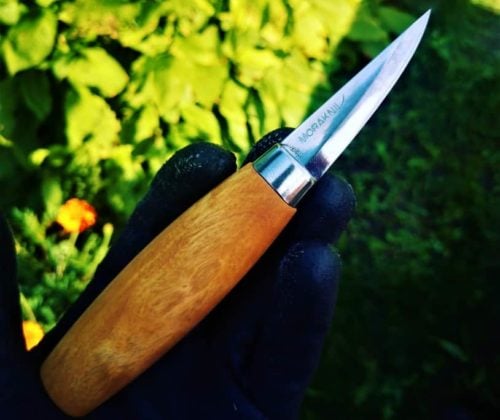 As an avid woodcarver, I enjoy the hands-on, meditative feel of whittling. In my years of woodworking experience, whittling still stands out as the perfect way to spend a quiet afternoon in the wilderness.
The best whittling knife has to be sharp and have an ergonomic handle that is longer than the blade for ease and accuracy. The steel quality of the blade is also a consideration because it determines how easily the blade dulls and how easy it is to resharpen. The shape of the edge also matters, especially for detailing. The Morakniv Wood Carving 120 knife scores high in all these areas and thus takes the top spot on my list.
However, there are other options out there that are well suited to different types of uses and users. Folding knives with multiple blades are often preferred for their versatility and portability. A single-blade folding knife can be the best option for those who want a good general-purpose blade that can whittle and rough out pieces quickly when out in the wild. A small, precision blade with a straight edge is ideal for detail carving and carving small pieces. In all scenarios, budget is always a concern, especially for beginners and hobbyists.
So if you want to know which of the best whittling knives is the best fit for you, read on!
Best Wood Carving Knives of 2023:
1. Best Whittling Knife Overall: Morakniv Wood Carving 120 Knife
Product length: 230 mm(9-Inch), Product width: 34 mm(1. 3-Inch), Knife length: 165 mm(6. 49-Inch), Blade thickness: 2. 7 mm(0. 10-Inch), Blade length: 60 mm(2. 4-Inch)
Oiled birch wood handle
Limited lifetime manufacturer's
OVERVIEW
If you are looking for a purpose-built, fixed blade wood whittling knife, you absolutely cannot go wrong with Morakniv. This company has an excellent reputation when it comes to making whittling and wood carving knives.
The handle to blade size ratio is ideal for all kinds of whittling moves and the sharpened tip is good for detailing. It comes with a sheath and is small enough to be carried around conveniently. It is good for both beginners and professionals alike.
Morakniv is the only one on this list that uses laminated steel on their blades. This means the blade is specially made with a core of hard high carbon steel near the edge with a softer, more flexible steel on the sides and the spine. This same technique is used in traditional Japanese Katana sword blades to give them razor-sharp edges with a soft and flexible spine that would bend easily to avoid breaking. The same logic applies here, making this whittling knife an ideal choice for carving all kinds of wood.
The size of the handle compared to the size of the blade is ideal for whittling and the blade is thin enough to slice through all kinds of wood. The hard carbon steel edge maintains an edge longer but also makes it difficult to sharpen. Overall, this is a whittling knife that is perfect for all kinds of whittling, and it comes with a sheath that makes it easy to carry around.
2. Best All-Purpose Wood Carving Knife For Beginners: BeaverCraft Sloyd Knife C4
Sloyd Knife for General Carving: this tool will become an irreplaceable helper in your work because the pointed tip will help with the details and the rounded blade allows you to make slicing cuts.
Whittling Knife Ergonomic Handle: the shaft is made of hardwood oak and protected with natural linseed oil. The design of the handle allows to carve comfortably for a long time without hand fatigue.
Wood Carving Knife Cutting Edge: is very sharp, allows you to cut softwood. The cuts are very smooth. The cutting edge of sloyd knife is durable to also cut hardwoods such as oak or walnut.
OVERVIEW
Beavercraft is the more affordable alternative to Flexcut and the price shows it. This is a Sloyd knife, with a curved edge that is good for roughing and a fine point that is good for detailing. The handle is not the most ergonomic but it is large and works just fine for most people. Pick this up if you are just getting started and want to pick up an affordable blade to get started with.
A thicker blade makes it difficult to handle certain kinds of wood and makes it more likely to accidentally chip the wood. Other than that, the only downside is that the blade might need some sharpening out of the box.
As a beginner wood whittler, getting started with just one blade is a great way to learn techniques before upgrading to specialty blades and gouges. Beavercraft is a well-known name and provides excellent customer service, so you can confidently make this your first whittling knife.
3. Best Whittling Set For Beginners: Elemental Tools 9pc Wood Carving Tools Set
❗AMAZING GIFT IDEA❗With complete wood carving supplies to begin with out of the beautiful display box, feel secure that the special someone in your life will enjoy their gift and put it to use...
❗GREAT FOR ANY CARVING OR WHITTLING PROJECT❗Start your craft with spoons and graduate to carving bowls or kuska, whittling wooden gnomes or wizzards, kuksa cup the possibilities are endless with...
❗ENJOY THIS RELAXING HOBBY❗With a wood knife in your hand, your worries melt away like the small wood chips falling to the ground; Wind down from a busy day by creating your own work of art;...
OVERVIEW
I wanted to include at least one set for those beginners who want an all-in-one deal that will see them through many projects. The Elemental Tools Wood Carving Set provides everything you need to get started. You get 3 carving knives including a hook knife, sharpening strop with compound, and protective gloves.
All of it comes in a nice bamboo box which makes it ideal for gifting. However, the box is flimsy and prone to breaking during shipping. Other than that little detail, the package is perfect.
One thing that I like about the package is that it comes with a spoon blank. This is a preshaped piece of wood that is ready for you to carve into a spoon. This makes the deal sweeter because you can get started with your first project the moment you open the box.
4. Best Folding Set For Professionals: Flexcut Carvin' Jack
Jackknife with 6 carving specific edge tools built in for right handed carvers
Chisel - Carving Knife - Hook knife - V scorp - gouge Scorp - Straight Gouge
Includes sharpening strop and Flexcut Gold polishing compound
OVERVIEW
This multi-tool set from Flexcut comes in both left-handed and right-handed versions. The company is well known for crafting really fine wood whittling blades and is decidedly on the higher end of the market.
If you are a professional who is looking for an all-in-one solution to carry with you everywhere, you cannot go wrong with this. It comes with 6 blades – Chisel, Carving Knife, Hook knife, V scorp, Gouge Scorp, and a Straight Gouge. It also comes with a specially designed strop for sharpening the gouges and crops.
This might seem like an expensive piece until you realize that the per blade cost is actually on par with other professional blades. Get this only if you want to whittle on the move. If you are mostly in one place, look at single-blade options.
5. Best Budget Folding Set For Beginners: Old Timer 24OT Splinter Carvin' 6in1 Traditional Folding Whittling Knife
OVERVIEW
If you want a portable, folding multi-blade whittling knife but are on a budget, this is the set I would recommend. It also comes with 6 blades with an identical assortment as the Flexcut but is just a fraction of the cost of the Carvinn's Jack. If you want to use gouges on your whittling project, then you might want to buy this instead of buying separate blades, which will come out more expensive.
You will be pleasantly surprised by the quality of this tool for the price that you are paying. The blades are thinner than Flexcut but this is a good thing for whittling because it makes for easier cuts in all types of wood.
6. Best Single Blade Folding Whittling Knife – Opinel No.08 Carbon Steel Folding Pocket Knife
This essential tool is unchanged since 1890 and is a must have for outdoorsmen and handymen alike
The Stainless Virobloc safety ring has two sections, one fixed and one sliding for secure locking
Opinel's carbon steel is extremely hard, thereby guaranteeing excellent cutting quality
OVERVIEW
Opinel is a French brand and sports a unique rotating locking mechanism that makes this folding knife easy to operate. This whittling knife is an ideal choice for those who want to get a single-blade folding knife that will travel with them (almost) everywhere. Just don't try to take one into an airplane cabin. That will not end well.
The No.8 is an ideal size for whittling and also for general purpose use around the house, campsite, or while hunting. The handle is comfortable to hold and the blade has good hardness and edge retention. Combine it with a portable sharpener and you are ready to whittle away those peaceful afternoons at the campsite.
Opinel makes excellent knives and is known for its quality. As a wood whittling knife though, it has a few shortcomings. The thicker blade is not ideal for slicing hardwood and the hardness might make it difficult to sharpen.
Buy this if you are looking for an excellent general-purpose whittling knife that will be excellent for roughing out shapes and do some detailing. Just don't expect it to serve you for a lot of fine detailing.
7. Best Detailing Knife – BeaverCraft Cutting Knife C2
Chip Carving Knife: thin pointed tip of the knife can be used for delicate wood cutting. It's a great tool for small workpieces or little details. This compact tool can make carving easier for you!
Wood Carving Knife Cutting Edge: very sharp. Fine cuts of small detail carving knives are very smooth. Be careful with this wood carving detail knife, it has a fine blade which can hurt you quickly.
Whittling Knife Ergonomic Handle: knife wood carving handle is made of hardwood oak and finished with natural linseed oil. It allows a long period of comfortable wood carving without hand fatigue.
OVERVIEW
This is an affordable blade from Beavercraft, made especially for chip carving and detailing work. The straight edge meets the spine at a point that makes it ideal for intricate cuts and chip carving, something that is difficult to accomplish with sloyd-type tapered-edged blades.
The price makes it ideal for users who already have a general-purpose knife and want to move on to practicing fine details on their projects.
This whittling knife is not made for large cuts and roughing out shapes, so make sure you have a larger, sloyd-type knife for those uses. It can be used for whittling out smaller projects like figurines from start to finish but will be slow for anything larger than that.
Beavercraft is on the lower end of the market and this shows in some key areas of the knife. The blade is thicker than professionals might like. This makes it difficult to work with certain kinds of wood and cuts. The steel quality is softer than blades like the Morakniv and that means it is easier to dull but also easier to sharpen.
For beginners looking for a single knife that can handle small projects, this is ideally shaped and priced. This can even be your only whittling knife if you are looking to make relatively smaller pieces or focus strictly on detail work. It is great as a second knife meant just for fine details.
8. Best Fine Detailing Knife For Professionals – KAKURI Japanese Kiridashi Carving Knife (40931)
JAPANESE KIRIDASHI MARKING KNIFE: Kiridashi Knife is a Japanese hand-forged utility knife for woodworking, bamboo craft, whittling, marking, deburring, pencil sharpening, paper cutting, leathercraft,...
BEAUTIFUL HAND-HAMMERED DESIGN: Non-slip body with a beautiful forged hammered pattern. Blacksmith hammers it one by one. You can use it for a lifetime by sharpening the blade. This is the ultimate...
RAZOR SHARP JAPANESE STEEL: Only Japanese high-grade steel is used. The blade is razor-sharp and durable, and you can restore the sharpness by sharpening with a whetstone. All KAKURI brand products...
OVERVIEW
Japanese swords and knives are the stuff of legends and for good reason too. Full disclosure – I am a bit of a fanboy when it comes to Japanese culture. So I just had to include a good Kiridashi blade for those who are looking for that extra edge in their wood carving!
These blades are traditionally used for both wood and bamboo carving and they can be sharpened to 'scary sharp' edges. These blades come in both right-handed and left-handed versions If you don't like the raw, without handle look, you can easily opt for a handled version.
However, you will be surprised how easy it is to use one of these without a handle, especially when it comes to carving small intricate bits. If you have ever admired Japanese wood carving, you have seen the kiridashi blade at work.
The only downside to this blade other than the price is that it might seem too slight and flimsy for a wood carving knife. Don't be fooled though, it is designed to be that way. It means you can carve for longer with more precision because the blade itself is minimal and doesn't get in the way.
This whittling knife carves and cuts with ease and gives you the freedom to make tiny and intricate details. The straight edge is set at an angle, which makes it easier to make precise cuts. There are a variety of shapes and sizes to choose from and maintains its edge really well.
Wood Carving Knife Buying Guide
I hope the list above has given you plenty of options to choose from, based on your unique circumstances. Now let's take a quick look at the major points to consider when buying a wood carving knife.
Steel Quality
The steel quality of your blade determines how long it stays sharp and how likely it is to break. You are looking for a sweet spot between 58 to 62 on the Rockwell index. Any lower and it will dull too fast. Any higher and it will break too easily (and will be a nightmare to sharpen). The good news is that most manufacturers stick to these exact numbers or close. Most don't cross 60. Some, like Morakniv, even go a step beyond and create laminated blades to get the best of both worlds.
Blade Thickness
A thin blade is ideal when whittling because it is easier to slice and cut precisely with it as compared to a thicker blade. The trade-off is that thicker blades are easier to grind and maintain than thinner ones. So it ultimately depends on the kind of work that you are doing. If you are making larger pieces, you can get away with a sturdy thick blade. For smaller, finer work, choose a thin blade.
Handle Style
Ergonomics plays a large role in a hand-driven technique like whittling. The best whittling blades have a handle that is more than twice as long as the blade. It makes for excellent control and comfort while carving. The shape of the handle also matters but the ideal shape will vary between blade types and individual users. The curved, teardrop type style is the most common and suits most styles and users.
Blade Size
For roughing, you are looking at sloyd-style curved blades that are somewhat larger than detailing blades. Detailing blades are smaller, thinner, narrower, and usually with a straight edge that is good for precise, small cuts.
Gouges, Hooks, And Other Special Blades
These are special blades that are designed to make various types of cuts in one go. However, they are not necessary to have or to begin with. If you are not sure or just getting started, get a good single-blade knife. It will work for all kinds of projects. For example, you can make a spoon with any general-purpose wood carving knife, you don't need to use a hook knife.
The Final Cut
After going through all the best options for wood carving knives, there is one clear winner in my opinion. Morakniv 120 is the best whittling knife in my opinion. Even though the Elemental Tools set or the Old Timer multi-blade folding set is cheaper than this fixed, single-blade whittling knife, it is still a better investment. With its laminated steel blade and thin profile, it is well-suited to any wood carving task you can throw at it.
Wood whittling is an art that can be practiced with just one blade and that blade should be a really good one. It should be comfortable for long periods of work, have excellent quality and last a lifetime. Morakniv scores well on all these points. For beginners, it may not be the best option only because it might break in inexperienced hands but otherwise, it is a blade that I would recommend to all woodcarvers of all levels. And for a blade that is under $30, it is not that expensive in the larger scheme of things.
It is also extremely portable, given its compact size and the sheath that it comes with. So you don't necessarily need a folding knife for it to travel around with you wherever you may go. Also, as an established brand well-loved by woodcarvers, you do get excellent customer service. Coupled with the fact that it comes fairly sharp out of the box, you can hardly go wrong with this option. Just make sure to read my introductory post on how to whittle if you are new to whittling and wood carving. It contains tips and best practices that can save you a lot of time as well as money on broken knives.
So there you have it, the best whittling knives, all laid out for you to choose from. As always, if you choose to buy something from this list, please do consider using our links. As Amazon affiliates, it pays the website a small commission while still giving you the best deal. It helps me produce more free content such as this article to help more people like you to find their woodworking passion.