In this article, you will learn about the best woodcarving tools for beginners. There is an endless variety of hand tools and power tools that you can use for woodcarving. It can be confusing for a beginner to choose from. However, you can easily get started using just one or two. The investment can be minimal, even zero! You can also spend a fair bit if you want to get into it seriously.
I have explored various options at various price points in the years that I have spent woodcarving. So this is going to be like the advice I wish I had when I began woodcarving.
We will be looking at both hand tools and power tools to choose one that suits your needs the best. We will also be going through some recommendations for various use cases.
Are you ready to know which woodcarving tool is right for you? Read on to find the answer.
Common Woodcarving Styles
I wrote an entire article earlier that provides a detailed introduction to the myriad forms of woodcarving. So in this article, I will touch lightly on the most common ones.
Whittling – Take a knife and whittle away at a block of wood to reveal a shape, figure, or form. The easiest and arguably the most fun.
Power carving – Woodcarving using a power tool such as a rotary tool or angle grinder.
In the round – Carving out a full 3D shape, figure, or scene that is viewable from all sides. Think how most sculptures look. You can use multiple tools for this.
Chip carving – Slicing out thin pieces of wood to form neat designs and patterns, a very advanced form of wood carving. Special knives are used for this.
Relief carving – Any carving that seems to be rising out of the surface of the wood. It is commonly done on a flat board of wood.
With most of these styles, we end up using a variety of tools. Most professional carvers these days will use a mishmash of rotary tools and hand tools to achieve the look they want.
Common Woodcarving Tools and Their Uses
In this section, I will introduce a few of the most commonly used woodcarving tools. Most of these are beginner-friendly, while others (like the chainsaw!) are not so much.
Woodcarving knives – The first tool to have been used to carve wood was most likely a sharp piece of stone. This evolved into the knife and we are still using it to carve wood. Most common are whittling knives and chip carving knives.
Chisels and gouges – The most common woodworking handtool after the ubiquitous handsaw are the various chisels and gouges. These are used to produce a vast variety of carved wood pieces.
Rotary tool – a comparatively recent addition but an extremely versatile tool. It can carve and engrave much more than just wood.
Angle grinder – Used for roughing out larger pieces and also for finishing in some cases.
Chainsaw – A very popular tool for carving an entire tree trunk.
Scroll Saw – Mostly used for cutting out patterns from blocks, which are then finished with handtools. Looking to buy a scroll saw? Read this review first.
Best Woodcarving Tools for Beginners
Now we come to the main course, I mean the meat and potatoes, of this article. Here are the tools that I would recommend for woodcarving beginners. I am selecting them mainly for their ease of use as well as their average cost in the market.
Whittling Knife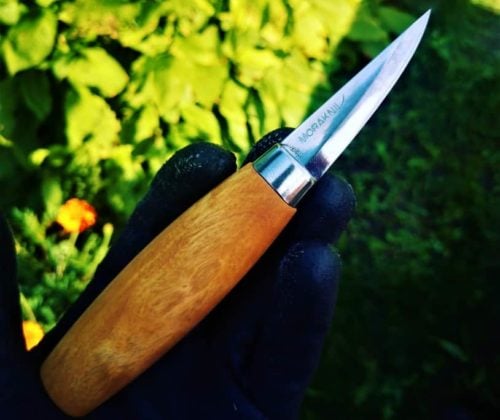 The most common tool for woodcarving is the tool that humans have used since time immemorial, and that is the good old knife. If you have a small pocket knife lying around the house, there are good chances that you can use it for whittling. We use the terms whittling and carving interchangeably when it comes to this style of carving. Whittling is essentially the process of carving the wood using a knife.
This is my top recommendation to beginners because it requires almost zero investment and fast learning curve. Mastery is going to take decades of dedicated practice, but the journey can be a lot of fun.
You can easily buy special woodcarving knives online and good ones start around $10. These are ideal to begin with. Use any softwood like basswood or pine to get started with this.
I recently wrote an article reviewing the best whittling knives. So if you want to go in-depth into the subject, go check it out and then come back here to continue with the rest of this article.
Mini Gouges And Chisels Set
This type of set is almost guaranteed to appear on any search result for woodcarving tools or woodcarving sets. These are mini handtools that are meant for smaller pieces and are ideal for beginners. They provide a lot of variety in each set and sets come in various sizes.
These are adaptations of smaller gouges and chisels used by woodcarvers to make details or create smaller pieces. With a little bit of sharpening, these can be great for your first adventures into relief carving, engraving, chip carving, etc. Just be aware that they are not the best options for carving in the round.
Depending on the kind of wood you are using, you may or may not need a wooden mallet for tapping on these as you carve. I would personally recommend using a small mallet that fits the size when working on intricate or long sessions. Save your hand strength for precision.
Related: Best Wood Carving Chisel Sets in 2023
Rotary Tool
Made famous by the Dremel line of compact power tools, rotary tools are like mini drills but with a huge variety of attachments and accessories. Initially used only by hobbyists and DIY enthusiasts, the rotary tool has evolved greatly since its early days. Now you can find their use in almost every nook and cranny of the crafts industry.
Carving with a rotary tool can be a safer option than working with blades of any kind. However, using a tool that can spin at rates upwards of 30,000rpm comes with its unique challenges. That said, it is possibly the most versatile option that you can invest in.
A good rotary kit will easily let you work on materials other than wood. You can carve and engrave stone, glass, metal, and acrylic. The tool has attachments for cutting, engraving, routing, sanding, polishing, and buffing.
It often makes an appearance at the detailing stages of professional woodcarvers, who might use every tool on this list and more, on the same project at different stages. To know how what I mean, check out the example below.
Youtube and the likes are great sources of inspiration for any would-be woodcarver. You will learn and also get ideas for your project when you look at masters of the craft at work.
Now let's take a look at a few recommendations that I have hand-picked for you. They are based on a variety of scenarios that beginners are known to face.
Most Versatile Beginners' Woodcarving Tool
The rotary tool is without a doubt the most versatile woodcarving tool that you can invest in. You will know that I am not overstating the case when you realize that this is the only tool on this list that can carve wood and also work on other materials like glass and stone.
With the variety of tips and attachments available, it can make almost any kind of cut and shape imaginable.
Full disclosure, rotary tools are my favorite for woodcarving and DIY projects. So you can say that I am a little biased. Mind you, just a little!
Here are some options worth looking into at various price points. Dremel 4000-4/34 tends to be expensive in comparison to the rest but also lasts longer than almost all other brands. So it is a question of long versus short term value.
Proxxon is another brand that is not so well known but is favored by many professionals as a Dremel alternative.
Easiest To Use Tool For Beginners
This one goes to the whittling knife. You cannot go wrong with just a simple blade and some wood to whittle away the hours. It is a fun way to get into woodcarving, with a tonne of learning material available both online and offline.
Whittling knives are available for almost all budgets and the entry points are fairly cheap. Since almost any small knife with a large handle can work as a whittling knife, you might find one in your grandfather's toolbox. Hunting knives often double as whittling knives and they can do a decent job for beginners.
Check out my introduction to whittling and my whittling knife buying guide to learn more.
BeaverCraft Cutting Knife C2
This one from Beaver Craft checks almost every box for a general-purpose whittling knife, from the straight edge to the fine point and large wooden handle. The best part though is the price.
If you have already decided that you need a set of knives for your whittling, then this set should do the trick. It is also from Beaver Craft, so you can rely on the quality and support.
Cheapest Woodcarving Tool For Beginners
AUGSUN Wood Carving Knife Set
These mini carving tools are ideal for the price. They have comfortable wooden handles and decent-quality blades. Like most blades, they will need some sharpening and honing out of the box. Any blade, has to be sharpened periodically to keep them easy to use and accurate.
This set is my pick because of the 20-pieces variety that it offers for under $15. That comes to less than $1 per blade, which is a steal. Just remember that these are mass-produced items and sometimes they might need some extra work out of the box before you can use them.
Read my review of the best woodworking chisels and invest in a sharpening stone if you decide to buy any kind of blade. It is necessary to have at least some fine-grit sandpaper to sharpen your blade as you use it.
Most Portable Woodcarving Tool For Beginners
Dremel 8220 Cordless Rotary Tool
I would say that the whittling knife is the most portable and I wouldn't be wrong. However, if you are looking for something even more versatile than a knife, have a look at these portable rotary tools. I would recommend the Dremel 8220 if you have the budget and the need.
I have done a review of the Dremel 8220 rotary tool that also covers a few alternative battery-powered options and explains this class of tools in detail.
Otherwise, KeShi Cordless Rotary Tool can also be a decent choice, especially for smaller projects.
Most Popular Woodcarving Tool
Wood carving chisels are some of the most common hand tools that woodcarvers and woodworkers use, second perhaps only to the handsaw. Chisels and their woodcarving versions called gouges, have been used for woodcarving all over the world since the beginning of woodworking.
So it is little surprise that chisels and gouges are the most popular option for any kind of serious woodcarving. With a wide variety of blades and sizes to choose from, woodcarving chisels are the traditional choice for woodcarvers across the world.
They are relatively beginner-friendly but may need a bit of time to get used to if you have never used any hand tools and blades before. Some setup is required out of the box. Read my chisel buying guide for details.
This option has the perfect balance of variety and price. It might seem expensive at first glance until you realize that professional-grade items will cost apiece what these are costing for the entire set. For under $100, this is a great buy if you want to make larger pieces. They are good for carving in the round, relief carving, and much more.
Schaaf Set Of 10 Wood Carving Tools
This option has the perfect balance of variety and price. It might seem expensive at first glance until you realize that professional-grade items will cost apiece what these are costing for the entire set. For under $100, this is a great buy if you want to make larger pieces. They are good for carving in the round, relief carving, and much more.
Best Tool To Have Overall
My personal choice for the overall winner is the rotary tool. Simply because I find it to be relatively safer for beginners, especially for children. I would allow a child to use my rotary tool under supervision, but I wouldn't let them anywhere near my razor-sharp knives or chisels. Teenagers can be perfectly safe with knives after some basic lessons.
Rotary tools allow for a pen-like grip with the flex-shaft attachment and the learning curve is relatively easy. It is also straightforward to use in a variety of woodcarving styles. However, each tip needs some getting used to. So that needs to be taken into consideration too.
If there is a budget for investing in a solid piece like the Dremel or Proxxon, it can also turn out to be one of the cheapest tools in the long run. That is unless you end up buying a lot of attachments and tips. Let's face it; those are half the fun of using a rotary tool. Still, there is a very thin line between need and greed in this case. Consider yourself warned!
Related: Best Rotary Tools of [Currentyear]
Conclusion
So there you have it. My round-up of the best wood carving tools for beginners. Any of these will set you on a long and happy journey, littered with wood shavings and strange-looking carvings that started one way and ended up looking like something else altogether. That is what makes the learning process all the more fun! I hope I have been able to help you make a decision. At the very least, you should now know what to look for in your first (or maybe second or third) woodcarving tool.
As always, we would appreciate it if you used one of our links to buy any of the products mentioned in this article. As Amazon Affiliates members, we get a small commission on the purchase at no extra cost to you. So you still get the best deal and we get to publish more free content like this one.