Without any public announcements, Bosch has released the new 4100XC-10 table saw. This table saw is an updated version of the highly-acclaimed 4100-10 and 4100-09 table saws. The older Bosch 4100 table saw models have been limited in availability for quite a while now. It seems like 4100XC-10 will replace its predecessors.
In this Bosch table saw review, you will learn what makes this saw stand out from the crowd to help you decide whether this is the right tool for you.
Thumbnail
New Version
Discontinued
Motor
15 amp, 110 V, 3,650 max RPM
15 amp, 110 V, 3,650 max RPM
New Version
Thumbnail
Motor
15 amp, 110 V, 3,650 max RPM
Discontinued
Thumbnail
Motor
15 amp, 110 V, 3,650 max RPM
Bosch 4100XC-10 Review
Bosch products are very well established in the industry. Bosch takes advantage of German engineering, making efficient products that last.
Who would benefit from owning the Bosch 4100XC-10 table saw? Its controls and other features are simple enough for beginners to use without being overwhelmed. This saw also provides performance that a more advanced user would benefit from.
If you find yourself working with larger pieces of wood for your projects, this table saw will prove very useful. Sheet products are where these power tools excel.
Conversely, if you typically work with smaller stock such as project boards (2 feet or less in width) then you may find a table saw like this to be overkill. In such a case, it might be better to go with a circular saw or a miter saw instead.
Before you head out to make your purchase, think about the following:
Will you use the table saw enough to justify the purchase?

Does a table saw fit within your current budget?

Do your projects and work-flow demand a table saw?

Do you have the room for this type of power tool?

Will your woodworking experience improve with a table saw?
Answering yes to a majority, if not all, of the questions above, should indicate that the Bosch 4100XC-10 might be right for you!
Presenting The Bosch 4100XC-10
POWERFUL TABLE SAW: Has 15-Amp saw with 4.0 max HP and 3,650 rpm, for rip-cutting and cross-cutting of fine and rough materials
LARGE CAST ALUMINUM TOP: Provides increased work space and material support with a 30 In. ripping capacity
SOFT-START CIRCUITRY: Manages intensity of motor start-up and minimizes the likelihood possibility of tripping a circuit breaker
OVERVIEW
The Bosch 4100XC-10 is a 10-inch table saw is listed as a worksite model, giving you the power of a good contractor table saw with jobsite saw mobility. It includes a wheeled stand, smart guard system, carbide-tipped blade, square-lock rip fence, miter gauge, push stick, and two adjustment wrenches. A smaller footprint, upgrades to the barrier guard allow and a larger, more easily accessible stop button makes it stand out from its predecessors (Bosch 4100-09 & 4100-10 models).
This product is a nice fit for users who work a lot with panels and other wide boards. It provides accurate cuts that are repeatable for cabinet makers. Woodworkers who make small projects and jigs may find limited benefits from this saw.
Bosch 4100XC-10 Benefits And Features
Mobility
The Bosch 4100XC-10 is designed as a worksite table saw. This product weighs only 58-pounds (63-pounds when equipped). It weighs a total of 92-pounds with the wheeled stand.
The benefit here is that the low weight makes it easier to move. That mobility allows this model to be taken to the worksite, or for woodworkers, to be moved from a storage spot to the area of operation. This will allow those with little space to make use of a table saw, something that a cabinet table saw would not allow.
Attention should be paid to the Gravity-Rise Wheeled Stand. This model comes with the GTA47W stand, a lighter version of Bosch's popular TS2100 Gravity-Rise system. It provides the adjustable height found on the larger stand as well as eight-inch wheels that can traverse rough job site terrain.
This table saw should provide you with a work surface that you can move around by yourself while offering a solid surface that is stable for cutting on.
Powerful motor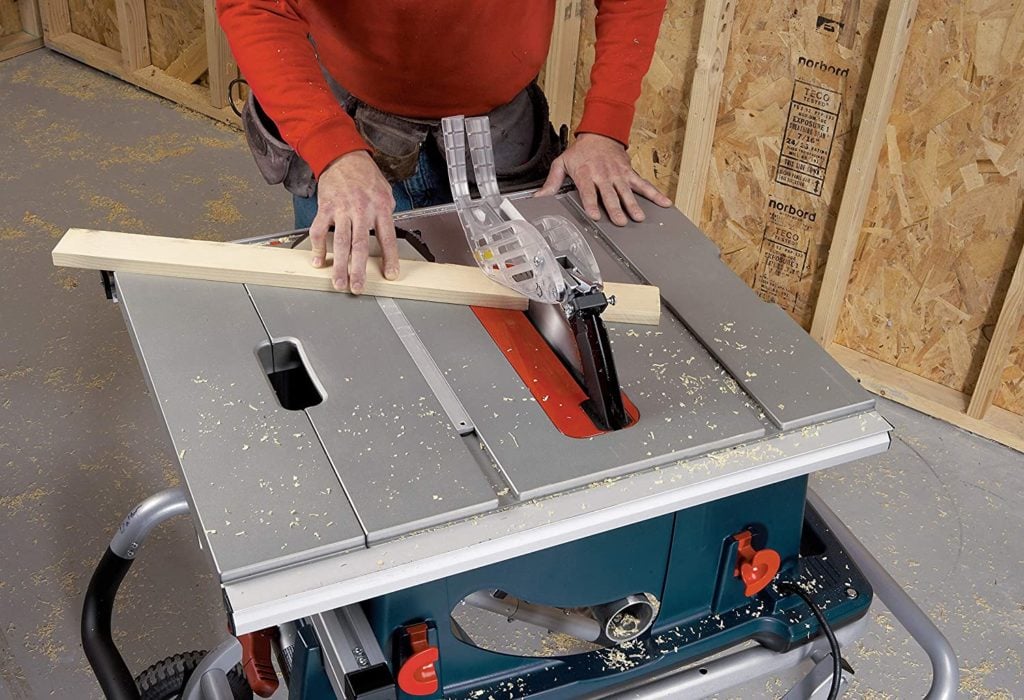 Bosch uses a German-engineered motor design that provides power and durability. A 15 amp electric motor produces up to four HP with no load, a level of energy that will power through hardwoods and thicker pieces without bogging down. Another motor feature is the 3,650 maximum RPMs it generates, allowing the teeth of saw blades to move easily through wood grain during cross or rip cuts.
Advanced motor features include soft-start circuitry. The purpose of these components is to allow the motor to go from off to running speed smoothly, helping to limit motor wear and tripped power circuits. Constant response circuits help maintain blade speed during cuts as well as protect against overloads.
Smart Guard System
Another engineering design worth noting here is the modular Smart Guard System, the first in the industry.
The first component to note is the riving knife. This three-position adjustable knife moves up and down with the blade, helping to prevent kickbacks.
Small teeth on the anti-kickback pawls will also aid in preventing your project from launching back towards you by running along the top of the wood as it moves through the cut.
Finally, the transparent blade guard provides you with a non-obstructed view of the workpiece.
Provides Efficient Workflow​
As discussed previously, the table saw is highly mobile, and can be moved by one person. Handles are integrated on the body of the saw so that two people can move the saw onto another surface such as a workbench.
The rip fence locks and will help to promote one-handed operation so that you can guide the wood as you feed it through the cut. This can be performed more safely due to the riving knife and kickback pawls.
A 30-inch rip capacity on the right side of the blade will allow you to cut four foot wide sheets in half. You can also cut from the left side of the blade, with a capacity of 8.5-inches.
It has a tabletop surface size of 30-inches by 22.5-inches. This is a reasonable size for a portable table saw, and can safely support panels as you feed them into the blade.
It can accept a dado set. This will increase the table saw's versatility, allowing you to cut dadoes and grooves. A dado set will save you a lot of time and energy compared to making similar cuts with other tools.
Built to perform and last
Durability begins with the wheeled base. The GTA47W Gravity-Rise Wheeled Stand is made from heavy-gauge steel tubing. This provides stability, reduces vibration, and keeps the overall weight to a minimum.
A cast aluminum top allows Bosch to offer a large enough table surface to support wood panels without making the table saw top-heavy. By avoiding the use of cast iron or steel, the manufacturer helps to maintain the saw's mobility as well.
It includes one the better miter gauges I have seen included with a table saw. It is longer and feels heavier than many gauges. This added strength will help to keep the miter true over time.
What Buyers Are Saying
The 4100XC-10 table saw is still a novelty on the market so there aren't many reviews from people who already bought the product. Instead, let's take a look at what people have to say about its predecessor 4100-10. Both saws are very similar in their design after all. I can say with confidence that the 4100 line of table saws has managed to build a strong reputation with woodworkers.
Plumbing Pete was happy with the accuracy of his verified purchase. He mentioned that he also found it fairly easy to load into the back of a truck.
Revised junk also mentioned accuracy, even when the fence was far from the blade. They also brought up something that many reviews touch on; accessory storage is a plus.
Brian W shared a review and his experiences in this short video. This gives you his impressions and lets you see the saw as he discusses what stands out for him.
Alternatives You May Consider
DEWALT (DWE7491RS) 10-Inch Table Saw
Your purchase includes one Dewalt table saw, 10inch 24-tooth carbide blade, rolling stand, push stick, miter gauge, rip fence, 2x blade wrenches, blade guard assembly manual
Other Specs: Max rip to left of blade – 22inch | Max rip to right of blade – 32-1/2inch | Max width of Dado – 13/16inch | Arbor size – 5/8inch | Amps – 15 | Depth of cut at 45inch –...
Rolling stand designed for easy set up and breakdown with excellent stability
OVERVIEW
Its higher price may be offset with a more durable build and longer warranty. Design elements include easier adjustments and clearer markings than those found on the Bosch.
This might be a great alternative for serious amateurs and pros who use their table saw a lot.
Head-To-Head Comparison: DEWALT DWE7491RS vs Bosch 4100XC-10
SKILSAW SPT99-11 10″ Heavy Duty Worm Drive Table Saw
Legendary worm drive gearing with 3-5/8 inch depth of cut and 30-1/2 inch rip capacity
Precision rack and pinion fence system makes fence adjustments quickly and smoothly for accurate cuts
Rugged rolling stand with 16 inch Wheels and easy-load handles delivers unsurpassed mobility
OVERVIEW
Rack and pinion systems control the adjustments on the fence, making accuracy easier to achieve.
This would prove to be an ideal choice for advanced woodworkers that need to use their table saw all day long.
SKIL TS6307-00 10-Inch Table Saw
On Sale
RACK AND PINION FENCE RAILS - Ensures fence stays parallel to blade for fast smooth, and accurate cuts
INTEGRATED FOLDING STAND - Legs quickly fold in to provide portability and convenient storage
PARALLEL BLADE ALIGNMENT - Available micro-adjustment of blade so that it is parallel to rip fence and miter slot
OVERVIEW
This Skil product provides a simple design that is easy to set up and use. It can break down for fast movement or storage.
This model from Skil would be beneficial for woodworkers who have a limited budget.
Summing It All Up
Making a big purchase like a table saw can be a dreadful endeavor. Beginners, as well as intermediate woodworkers, can be intimidated by the volume of products available for purchase. This Bosch 4100XC-10 review will hopefully make that easier for you.
Overall, the The Bosch 4100XC-10 saw is one of the best table saws for woodworking. This table saw can be operated with ease and has the ability to handle a wide variety of projects made from panels and other wide boards. A powerful motor, mobility, and safety systems make this a product for first-time users or seasoned woodworkers. Visit Amazon to check the current price of the Bosch 4100XC-10 Table Saw.