Today's review is for the Delta 36-725T2 Contractor Table Saw. As with all our reviews, we'll look at the price, build quality, and performance. However, Delta's line of table saws has a little (dark) history, so we'll discuss that issue and whether those problems are a thing of the past.
In 40-years of woodworking, I've never yet bought a tool that didn't work as advertised; however, I often bought one that constrained me in tasks that I needed to do. My goal is to give you the buying information needed to make purchase decisions that empower your woodwork, not limit it.
Overall, the Delta 36-725T2 contractor table saw looks impressive, with a price similar to jobsite table saws from DEWALT and SKIL. It also has a couple of features that the competition doesn't. You need to understand some historical issues before your purchase, yet I like what you get for the price, and I would seriously consider purchasing this table saw.
Stay with me for a couple of minutes, and I'll give you the good, the bad, and the ugly on the Delta 36-725T2 to guide you in your purchase.
Introducing Delta 36-725T2
Tool Specifications
10-inch carbide-tipped blade
15 amp motor, turning the blade at 3,600 rpm
Bevel capability from 45 degrees
Cuts 3-1/2 inch at 90 degrees and 2-1/2 inches at 45 degrees
30-inch rip capacity
Corded electric
Includes a castoring table stand
Included In The Package
Biesemeyer-style rip fence
Miter gauge
Anti-kickback pawl
Blade guard
Tubular stand with wheels
Carbide blade
Stamped steel table extension wings
The Delta 36-725T2 is designed for serious hobbyists, contractors, and builders, providing the features needed without frills. Its capabilities include cross-cutting, rip-sawing, and cutting dadoes in softwood, hardwood, plywood, and composite materials.
The general specifications are good, with a 10-inch carbide-tipped blade driven by a 15-amp motor and a rip-fence cutting capability of 30-inches. Where things get interesting is with a cast-iron tabletop and two stamped steel tabletop extension wings. Given that most table saws in this price bracket sport cast aluminum table tops, getting cast-iron included for the price is a nice feature.
Other interesting features of this saw include the Biesemeyer-style rip fence and that both the blade bevel adjustment and the height adjustment are adjusted by separate handwheels, allowing precise and accurate adjustment.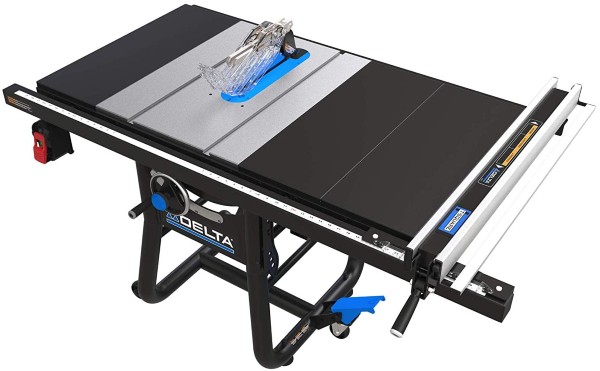 Most saws only use the handwheel system for height, providing an inaccurate manual bevel adjustment. Full marks to Delta on these additions.
Other good features include a sturdy tubular stand with wheels allowing easy movement yet locking down via a foot pedal when operating, an arbor lock to assist blade changes, and a stackable dado-capability.
Now let's discuss some of the less desirable issues owners have encountered. One that seems to be a perennial issue is the damage suffered by the saw during delivery. While Delta can't be held to account for poor handling by delivery people, their packaging might need looking at for greater protection. There has also been the odd motor quality issue that appears to be factory-related. Those gripes aside, owners seem to be very pleased with the Delta 36-725T2.
When looking at the price of the 36-725T2, you get quite a bit extra for your money compared to the competitors. With the SKIL equivalent a bit cheaper and the DEWALT equivalent a tiny bit costlier, the Delta product is attractive. Just be sure to give the saw a really good inspection out of the box given the stories of damage and quality issues.
Delta's Dark History Of Motor Failure
I'm sure Delta would rather forget this story, as would a few owners, but Delta went through a particularly bad period in 2020 with a reportedly high frequency of motor failures on their 36-725T2 and 5000-series table saws. It got so bad that some owners even started a Facebook page to draw attention to the problem and what they considered to be a lack of post-sales support from Delta. However, the Facebook page has seen no action since October 2020, so I'm assuming Delta has resolved the issue.
An abbreviated version of the story is that owners were experiencing early motor failure, sometimes within a day or two of purchase. In mid-2020, Delta acknowledged a problem with motor cooling fans installed in their 36-725T2 and 5000 series table saws, issuing a press release.
At the time, owners had reported difficulty getting assistance for the problem, while some who received assistance had the same failure on the replacement table saw.
However, when writing this article, Delta does appear to have resolved the motor issue with no current reports of concerns or failures. Given the history, I wouldn't be buying a second-hand Delta 36-725T2 sold in 2020, but I'd be comfortable buying a new 2021 build. Just be sure to buy it from a reputable dealer who will stand by a returns policy in the slim case of failure.
Review Of Features
Cast Iron Tabletop
Why is cast iron good? It's used in higher-end table saws because it is dimensionally stable, flat, and hard-wearing. If you buy this table saw, the only caution I'd sound is to check the top for flatness with a straight edge. A small number of new owners have reported finding the top not sufficiently flat. Given the small number of complaints, I think it might have been a batch problem, although it does raise flags on Delta's quality control. If you get a good one, it'll last you for years without problems.
Biesemeyer Rip Fence System
The Biesemeyer rip fence system uses a t-square fence with a three-point locking system which is purportedly accurate to 1/64-inch. Delta bought the Biesemeyer company, so it's no surprise that they've included the system on their products. While the rack and pinion systems used on the competitor's products are accurate enough for hobbyist use, the Biesemeyer system is considered the gold standard for accuracy in rip fence design on table saws. Delta get full marks for this design addition.
Tubular Stand With Wheels
The Delta 36-725T2 is not lightweight due to the cast-iron tabletop and steel extensions. At 220 pounds, you can't throw this saw around like one of its alloy competitors. The stand supplied to support it is robust and looks good too. The wheels are arranged so a foot-operated system grounds the saw for use or lifts it onto the wheels for movement. It's a nice design feature and well thought out.
Delta 36-725T2 Vs Delta 36-725
Confusingly, Delta has two table saws with almost the same model number, apart from the T2 suffix. When writing this, the T2 version sets you back a further $80 over the straight 36-725T2. I've added a table below to show you the differences, which I've highlighted. It boils down to a 15 amp motor in the 36-725T2 versus a 13 amp motor in the 36-725. I'm guessing the weight and size difference on the T2 is to accommodate the larger motor. You get to choose whether that extra power is worth around $80 (as of the time of writing this article).
Summary
Powerful 1. 75 Hp Contractor Grade motor easily handles hardwoods
30 Inch Rip Capacity handles large stock and 13/16 in. X 8 in. STACKED DADO CAPACITY
Smooth and dependable adjustable belt drive table saw
Despite a rocky start in 2020 due to a high number of motor failures, the Delta 36-725T2 10-inch contractor table saw now appears to be a winner. Competitively priced, you get a couple of seriously nice additions, namely the Biesemeyer rip fence and the cast-iron tabletop.
Delta does need to pull their socks up on packaging and in-factory quality control, but if you dodge those bullets, you'll end up with a superb table saw that will keep you going for years. If you're considering an upgrade, you could do a lot worse than the Delta 36-725T2. Grab one while they're still at this low price.