In this article, I will be reviewing the Dremel 4300 5/40 rotary tool set. It is a versatile tool that allows you to work on various surfaces and materials. It is ideal for DIY projects and perfect for small sculpting and art projects.
I have spent years working with rotary tools for my wood carving. It has made me appreciate how well-made Dremel tools are. Almost anyone you talk to about Dremel will readily tell you that these are workhorse tools.
So let's take a quick look at the main features.
Highlights
On Sale
Premium rotary tool kit - Includes 4300 high performance rotary tool, 5 attachments, 40 high-quality Dremel accessories, and plastic storage case.
High performance motor – Our most powerful motor delivers maximum performance even in the most demanding applications.
Variable speed - 5,000 – 35,000 RPM with electronic feedback for consistent performance and accurate tool control
2-year limited warranty: This mainly covers manufacturing defects and faulty parts. If something goes wrong during the ordinary course of use, Dremel will fix it or replace it for you. They have a good track record for putting out good quality tools, so returns are pretty rare.
40 accessories: This particular set comes with 40 accessories that give you a wide range of possible uses. I will go through each segment of accessories later in this article.
5 attachments: It also comes with five different attachments in the box. Each attachment has a specific function, which I will cover in detail.
Storage Case: A convenient carry case made out of hard plastic. It makes for good storage and carrying. It will survive moderate impacts and drops. Otherwise, it will last for a very long time if you take good care of it.
Overall, the package contains everything you will need to start your journey with your new Dremel 4300. The accessories kit is very well put together and a great one to have for general use.
Accessories: detailed look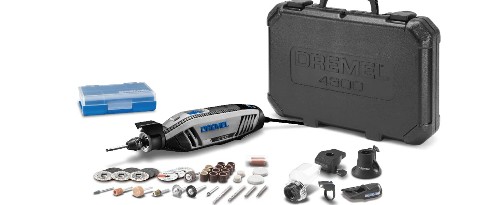 Sanding drums and EZ lock sanding discs: These are meant for rough shaping and smoothing. They are designed for wood and fiberglass. The discs come in various grits, and the sanding drums come in different drum girths.
EZ 456 cutoff wheels: This fits the Dremel EZ lock mandrel. It is designed for slicing, cutting, grooving, and trimming various metals, including steel. This makes it a fantastic tool for all kinds of metalwork.
Felt polishing wheels – You get these discs in two sizes — 1inch and ½ inch. The kit comes with a polishing compound meant to use with the felt discs.
⅛ inch drill bit: This is a multipurpose bit used in the Dremel cutting guide attachment, which is also included with this kit.
Aluminum oxide grinding stones: These are mainly used for various kinds of metal blade sharpening. They are suitable for sharpening, deburring, and extended general-purpose grinding for most materials, including stainless steel.
Silicon carbide grinding stone: This stone is meant for sharpening, deburring, and grinding harder materials, such as natural stones and crystals.
Engraving cutter and high-speed cutter: These are designed for shaping, hollowing, grooving, slotting, inlaying, and making tapered holes. They are meant for wood, fiberglass, and plastic.
Carbon steel brush: This is Ideal for cleaning and removing rust and corrosion from brass, copper, or other soft ferrous metals found in tools, doorknobs, automobile parts, and electrical contacts.
Nylon bristle brush: Ideal for general purpose cleaning and polishing, especially in hard-to-reach places such as slotted surfaces.
Extra collet and collet nut: you will need to use it with your flex shaft if you have one and the cutting guide attachment that comes with the kit. These attachments won't work with the universal keyless chuck,
The accessories come in a nice little plastic case stored inside the main carry case.
Attachments
Now let's look at the different attachments that come with the kit. Most of these are attached to the thread where the rubberized collar is attached. The collar is used for gripping the tool as you would a pencil. A really fat pencil full of moving parts.
Dremel cutting guide: This is used with Dremel multipurpose cutting bit. It is designed for cutting grooves and slots into wood, fiberglass, drywall, laminate aluminum, and vinyl signages.
Sharpening attachment: This is the lawnmower and garden tool sharpener attachment. It is designed to be used with the aluminum oxide grinding stone (no 932).
Shield attachment: This plastic shield is transparent, and it deflects sparks and debris. It creates a safer and more comfortable working experience, especially when working with metal where sparks are inevitable.
Sanding and grinding guide: This gives increased comfort and accuracy during these operations.
Look and feel
The Dremel is very well designed and looks like a professional tool. The body is made of hard plastic and a few metal parts. It feels solid and made to last.
The motor sounds well-tuned and not as loud as most would expect. The separate on/off switch slides to toggle power supply while the speed control is a rotary dial that turns smoothly. The dial is marked from 5 (5,000 rpm) to 35 (35,000 rpm). Having these two separate helps prevent unintentionally changing the speed while using the tool. It also enables you to choose the speed setting before turning it on.
Many other brands use a combination dial that turns on and then begins to ramp up the speed. This is not the optimal design as you cannot switch it off immediately if required.
The body has a lot of rubberized surfaces, making it that much more comfortable to hold and use. This is especially helpful when you are using gloves, which should be most of the time when working with a rotary tool.
Design
It feels pretty comfortable in hand, and the air vents are designed to blow debris away from the working surface. The finger gripping area is a separate part that can be screwed on or removed if needed. You will have to remove it if you want to use a flex shaft. Since most of my engraving and design work is done using the flex shaft, I seldom use it.
However, if you want to use your Dremel 4300 like that, the grip will make it feel very secure. It has a nice rubberized surface and feels comfortable to hold. The tool's weight is something that you can get used to over time and by taking a few breaks between sessions.
The spindle lock button has a nice fail-safe feature that stops you from pressing it when the power switch is in the on position. This prevents damage to the spindle and the lock button itself.
Another excellent little detail is that the power button sits a little lower than the tool's surface so that it doesn't get turned on or off while brushing against another object or surface.
Dremel has definitely paid attention to many small details that most other companies choose to overlook. As a result, it feels better and is more efficient than other best rotary tools in the market.
Pivot light: It is powered by a separate battery and has its own on-off switch. Gives better visibility in tight spaces.
What is it Good for?
So what kind of uses can you put a Dremel 4300 to? Let's look at the various materials and projects you can use it for.
Materials
Wood: You can make small wood sculpting projects with just the accessories that come in the box. Using the sanding drums and discs to reshape a rough cut. Then using the fast cutting and engraving bits for doing the detailing work. Going back and forth between these attachments to achieve the final result and then using the felt discs with the polishing compound to finish the piece.
Fiberglass and plastic: You can use the same attachments that you would use for wood to work with fiberglass and plastic. So you can groove, engrave, sand, and polish projects like 3D printed parts.
Metal: The cutoff wheels can cut off bits of metal and then create notches, grooves, and slots in them. Then you can use the aluminum oxide grinding wheels and the shield attachment to grind and smoothen out the surfaces. You can create small metal parts or creative projects by switching between these two accessories.
Dremel 4300 Projects
DIY – This is the perfect tool for making and building various DIY projects around the house. Since you can cut and drill almost all everyday household objects and surfaces, you have your pick of home improvement and craft ideas to choose from. Research the various recommended accessories and their rotation speeds for multiple characters.
Creative Projects: You can use the Dremel 4300 to sculpt stone, metal, and wood. You can use it to engrave and inlay on wood and fiberglass. You can also use it for creating smaller parts of a larger project. Anywhere you need to add details and make small changes, this tool will be all you need.
Professional workshops: Many automobile, engineering, instrument making, and other workshops use this tool to help with various parts of their daily work. If your profession involves creating and/or repairing small details and objects made of fiber, plastic, wood, or metal. In that case, you will probably find multiple uses for the Dremel and its various accessories.
Maintenance: Dremel is great for cleaning various surfaces, deburring old metal, sharpening tools like knives and lawnmower blades. This tool can reach into places where you would typically never be able to reach.
There are attachments like the Dremel routing table, Dremel 220 workstation, and the multi-vise. These can be added to your collection for further expanding the range of possibilities of your rotary tool.
Pricing
It is priced quite reasonably at just over $100, mainly because it will last for many years before you need to buy another one. Given that most other rotary rolls will stop working after just a couple of years of regular use, you are actually getting an excellent deal.
Since it comes with 40 accessories, you can go without investing in extra accessories for quite some time.
Who is the Dremel 4300 Meant for?
This Dremel rotary tool is a multipurpose one. So it will cater to everyone from professionals to amateurs, homeowners to DIY enthusiasts. It can be used by many different artists to create various kinds of sculptures, engravings, and installations.
So whether you are just getting started on a hobby or a seasoned professional in what you do, you can invest in the Dremel 4300 with confidence. There is not much of a learning curve, and a few getting started videos and articles will give you all the information you need to get started.
Here are some essential tips to keep in mind:
Let the tool do the work. Do not apply force or pressure beyond what is necessary to keep the device in position.
Use the right accessory for the material you are working on.
Set the correct speed for each operation. The accessories all have an optimum range of speed that they should use.
Give it short breaks between long sessions. This will help the parts cool down before starting up again. This makes your tool last much longer.
Always store the tool in its box when not in use. This will prevent dust from building up around the moving parts.
Wear safety gloves and glasses whenever you are working with this tool. Some earplugs may also be a good idea for longer sessions.
Conclusion
The Dremel 4300 is a fantastic rotary tool that is high quality and versatile. It is built to last and has an excellent design that makes it a very smooth experience. The accessories are also of high quality and will last for a long time if used correctly.
As a multipurpose tool, it can be used in a wide range of projects involving various different materials. The learning curve is relatively easy, and almost anyone can pick it up and work with it.
The pricing is also just right for the quality and performance. All the accessories, attachments, and the case just sweeten the deal further.
Overall, it is one of the best rotary tools and probably the best at this price range. The company has been around for decades and is synonymous with small and high-performance rotary tools. So you can rely on excellent after-sales service and branded high-quality accessories.
I hope this review has been helpful to you. If you decide to buy this tool, please consider using the links provided within this article. As Amazon affiliates, we receive a small commission whenever you make a purchase using our link, at no extra cost to you. So you still get the best quality and price while we get to keep the servers running and produce more free content.