You need to consider the latest in features and technology as you shop for a table saw. The TS6307-00 provides upgrades to the saw and stand offered by Skil with the older 3410-02 model.
This Skil TS6307-00 table saw review will help you determine if it matches your expectations and needs before you spend your hard-earned cash.
Presenting The Skil TS6307-00 Table Saw
This product markets as an in-between benchtop and job site table saw. The lighter weight and compact size make it easy to move around. Its integrated legs fold, allowing it to sit on a workbench.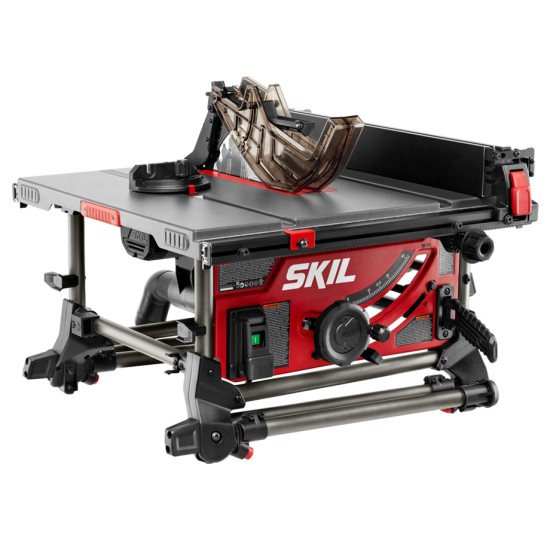 The 10-inch blade can tilt from -2 to 47-degrees, offering greater bevel cut capacity. A rack and pinion rail provide smooth movement as you change the fence position. That allows you to make micro-adjustments quickly.
What's in the box?
With the purchase of the SKIL TS6307-00 you get:
The 15 Amp table saw and integrated stand,
Blade guard
Rip fence
Miter gauge
Dust port elbow
Riving knife,
Anti-kickback-pawls
24T saw blade
Push stick
Two wrenches
Who should and should not consider the Skil TS6307-00?
This table saw is ideal for basements, garages, and sheds that double for a workshop. It is easy to move, and the folding legs allow you to place it on a bench or under it.
General contractors will also appreciate the mobility and the easy storage for a table saw they can take from one job site to another.
Advanced woodworkers may find the saw and the accessories lacking in accuracy compared to higher-tier table saws. Busy shops might want something with more power and dust collection as well.
It will lack the capacity and motor strength that most stationary table saws can offer. With that said, the SKIL TS6307-00 table saw provides performance that is more than suitable for its target demographic.
Skil TS6307-00 Table Saw Review
10-Inch Blade
The TS6307-00 uses 10-inch circular saw blades. That provides a maximum cutting depth of 3.5 inches with the saw blade adjusted to 90-degrees. It will reach a maximum depth of 2.5 inches when tilted for a 45-degree bevel cut.
10-inch table saw designs are the most common, and you will find a wide selection of blades in that range. Skil includes a 24 tooth blade with the table saw. That TPI leans towards a rip-cutting blade, making it acceptable for rough cutting (You will want to get a higher TPI circular saw blade for smooth cross-cutting or other materials).
Another thing worth mentioning is that this table saw can handle dado blades. The maximum dado width is 5/8-inches. Most portable designs in this range cannot power a wobble blade or dado stack set.
Blade Adjustments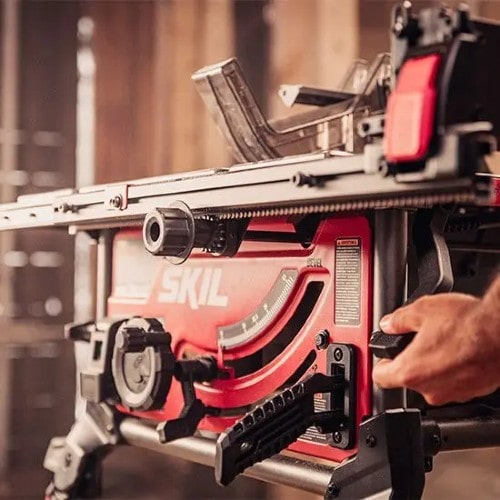 Another feature that stands out with the Skil TS6307-00 is the bevel adjustment range. You can tilt the blade from -2 degrees through 47 degrees. That is a range that many of the other models in this category can not provide.
Skil includes two positive stops, one at 0-degrees and the other at 45-degrees. These represent the two most often used settings, so the indents allow for quick adjustments between the two.
Rip Fence and Miter Gauge
The rip fence sits on a rack and pinion arm. That system allows it to move smoothly without sticking or jumping as you try to set it. You find it easier to make small adjustments as you trim boards.
Skil also supplies a miter gauge with the TS6307-00. It can adjust, allowing you to make miter cuts. The miter gauge fits into slots to the left or the right of the blade.
You can make rip cuts up to 25.5 inches on the right of the blade. It is a greater capacity than more compact benchtop saws, but you will find larger rip capacities on other 10-inch products.
You can make maximum rip cuts of 14-inches on the left side of the blade. That will still handle a lot of standard building materials and pre-dimensioned lumber that beginners and intermediate woodworkers use in their projects.
Controls for the fence, including the locks, are easy to use. The aluminum table has a coating to eliminate friction as wood moves across it.
A 15-Amp Electric Motor
The Skil TS6307-00 has a current rating of 15-amps. It is standard for this type of table saw. Those amps provide enough power consistently to drive a dado stack, which is something that many motors of that rating can not manage.
The gear system transfers adequate torque. It generates up to 4,600 RPMs under no-load conditions. That speed should remain consistent unless you are cutting maximum depth on hardwood species.
Skil uses a single-speed design with this saw.
Dust Collection
Dust collection is usually an afterthought for most hobbyists. Truth is that a proper dust collection system is one of those things that makes table saws stand out. An additional component to this saw is the elbow. It allows you to feed hoses to the side of the housing, which can make it easier to attach.
Safety Features
This product is a double insulated tool design. That allows it to run without using grounded cords. Skil also includes a feature that prevents the saw from starting accidentally after a loss of power.
An anti-kickback-pawl and riving knife are becoming standard additions to a table saw, and Skil includes them here. There is a section in the owner's manual that covers kickbacks and how to reduce them that is worth reading.
Alternatives To The Skil TS6307-00
Making a complete Skil TS6307-00 review requires a look at similar products. The three options below will help you gauge how Skil's table saw compares to similar products.
DEWALT DWE7485 8.25-Inch Table Saw
On Sale
COMPACT BUILD - Conserve storage space and simplify transporting this tool with a compact design
ACCURATE ADJUSTMENTS - Make fast, smooth fence adjustments with rack and pinion telescoping rails
PROFESSIONAL RIP CAPACITY - Take on large jobs with 24.5 in. of rip capacity for ripping 4X8 plywood or OSB sheets
Full Review: DEWALT DWE748 Review
The most notable difference here is the smaller 8.25-inch blade, providing a maximum cutting depth of 2 9/16-inches at 90-degrees. A 5,800 RPM no-load speed is faster than the TS6307. It is a benchtop design and does not include a stand.
Contractors are the target market for this rugged design. Hobbyists who need to move tools around often can take advantage of that durability.
A roll cage provides better protection
This saw has less maximum cutting depth
You will be paying more for this table saw
Hobbyists and professionals needing a portable model designed for rough handling should check out the DWE7485 by DeWalt.
DEWALT DWE7491RS 10-Inch Table Saw
Your purchase includes one Dewalt table saw, 10inch 24-tooth carbide blade, rolling stand, push stick, miter gauge, rip fence, 2x blade wrenches, blade guard assembly manual
Other Specs: Max rip to left of blade – 22inch | Max rip to right of blade – 32-1/2inch | Max width of Dado – 13/16inch | Arbor size – 5/8inch | Amps – 15 | Depth of cut at 45inch –...
Rolling stand designed for easy set up and breakdown with excellent stability
Full Review: DEWALT DWE7491RS Review
The DWE7491RS is a larger model that offers more table support and maximum rip capacity. Its increased weight is manageable with the wheeled stand. A high-torque motor maintains speed through deep cuts in hardwoods.
General contractors and cabinet makers will appreciate the large capacity this saw provides. Serious hobbyists can take advantage of the table size without sacrificing other features.
32.5-inch rip capacity
A rolling stand is included
This product takes up more room
If you are looking for increased rip capacity, it will be worth your time to look further at the DeWalt DWE7491RS.
Bosch 4100XC-10 10-Inch Table Saw
POWERFUL TABLE SAW: Has 15-Amp saw with 4.0 max HP and 3,650 rpm, for rip-cutting and cross-cutting of fine and rough materials
LARGE CAST ALUMINUM TOP: Provides increased work space and material support with a 30 In. ripping capacity
SOFT-START CIRCUITRY: Manages intensity of motor start-up and minimizes the likelihood possibility of tripping a circuit breaker
Full Review: Bosch 4100XC-10 Review
Bosch provides you with an integrated blade control that adjusts both its height as well as its tilt. A gravity rise stand can be set up and broken down with a single action. The circuitry includes start-up speed management to help prevent breaker trips.
This model targets the contractor and serious hobbyists requiring the latest in table saw features and technology.
Gravity rise stand is single-action
It includes soft-start electronics
This model has a lower RPM rating
Users looking for integrated circuitry and controls should look more closely at the Bosch 4100XC-10.
Does It Improve Your Skil?
Overall, this is a great table saw to buy. This 10-inch table saw provides you with plenty of rip capacity at 25.5-inches. A maximum cutting depth of 3.5-inches will cut through four by four material, and an increased bevel range of -2 through 47 degrees will meet most shop needs.
These features, and more, are available at a lower price worth paying.
This Skil TS6307-00 review covers a lot, but you should take a closer look at this table saw on Amazon for the latest price and reviews!
On Sale
RACK AND PINION FENCE RAILS - Ensures fence stays parallel to blade for fast smooth, and accurate cuts
INTEGRATED FOLDING STAND - Legs quickly fold in to provide portability and convenient storage
PARALLEL BLADE ALIGNMENT - Available micro-adjustment of blade so that it is parallel to rip fence and miter slot