Your woodworking journey is unique, and you need to own the right tools to keep things enjoyable. A majority of your hobby involves sanding, drilling, or cutting.
This table saw vs circular saw comparison will help you decide which power saw is the right choice for your shop, saving you frustration as well as money. In the end, you will also find a review of two of the best models for both table saws and circular saws.
Thinking About Getting A Table Saw?
The key to a table saw is the support it provides. The table, fence, and miter gauge keep the wood in place for accurate cuts. Jigs expand the versatility of this power-tool.
Table saws excel with rip cuts and cutting panels. They can also make cross cuts, bevels, and miters when using the right accessories. You can also create a lot of different joinery cuts with it.
What types of table saws are there?
Things have changed a lot since my late grandfather bought his table saw back in the day. Manufacturers produce a variety of saws to meet almost anyone's needs (and budget). Some of the more popular types of table saws are:
Portable table saws: Ideal for small shops where smaller power-tools are a must.
Jobsite table saws: These saws usually have a wheeled stand and are more durable than benchtop models.
Contractor table saws: A more powerful version of the Jobsite design, capable of serving most cabinetry and carpentry needs.
Hybrid table saws: Provides contractor saw features with a cabinet saw housing and motor.
Cabinet table saws: The biggest design that incorporates the most features on the market.
Who should own a table saw?
Hobbyists and professionals alike will benefit from the accuracy that a table saw offers, especially with rip cut and breaking down sheet goods. It is a versatile tool that can replace many other saw designs.
Who should not own one?
New woodworkers who are just starting their journey, or more experienced woodworkers that create small projects, may find that they can get by with other types of saws.
Pros
You will get more accurate cuts. The fence and miter gauge keep the wood aligned.
It can be more operator-friendly. You have more control feeding material to the saw, and it is safer to work with a stationary blade.
Table saws provide better dust collection options. Your shop environment will be easier to clean and maintain.
Cons
It takes up more room. Table saws require space to cut, while a circular saw rest on the wood you are cutting.
Cutting capacity is limited. The fence, miter gauge, and table limit the size of material that you can safely cut.
Is table saw the right tool for you? Read our extensive buying guide to learn more.
Thinking About Getting A Circular Saw?
Circular saws are about mobility. I bought a high-quality circular saw early in my woodworking journey to replace handsaws. You can cut anywhere, especially with battery-powered designs.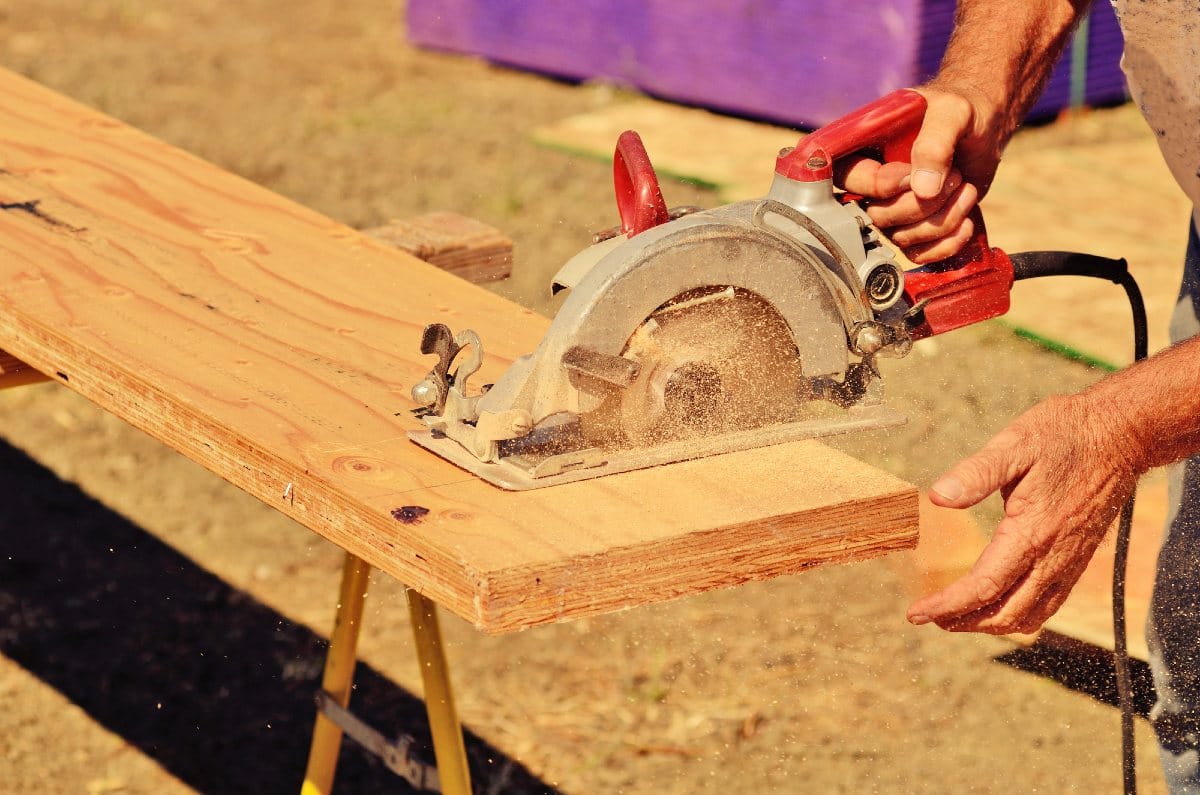 What types of circular saws are there?
Manufacturers and woodworkers break down this type of saw into size, power source, and motor/gear designs, including:
Who should own a circular saw?
Everyone! The circular saw is great for a quick break down and rough cutting on almost any project. It provides more mobility and greater capacity than a table saw as you bring the saw to the wood.
Who should avoid a circular saw?
Awareness and confidence are critical for safely operating a circular saw. Younger woodworkers, those who lack arm strength, and new hobbyists that are intimidated by power-tools may want to hold off on buying a circular saw (for a while, anyway).
Pros
Provides more mobility. You can take the saw to the wood instead of having to load it onto a table.
You will have a greater cut capacity. The width of cut is not limited by a fence.
Is a cheaper saw. You will pay less for a circular saw than for a table saw of similar power.
Cons
Can be more dangerous to use. You need to be careful with a spinning blade in your hand.
It is less accurate. Even with jigs, a circular saw can drift.
Table Saw vs Circular Saw: best models
DeWalt DWE7491RS 10-Inch Table Saw
OVERVIEW
The DWE7491RS by DeWalt is a 10-inch table saw. This blade size is standard, so sourcing blades should be easy.
That blade can cut to 3 1/8 inch at 90-degrees and 2 1/4 inch at 45-degrees. That will handle most materials that new and intermediate woodworkers use for projects. It is also perfect for building materials that construction workers encounter, including framing lumber.
A 15-amp electric motor powers this table saw. The motor is a high-torque design. You can expect consistent operations with thick cuts as well as dado blade stacks.
This table saw features a 32.5-inch rip capacity to the right of the blade. You will have 22 inches of rip capacity to the left side. These represent a larger capacity than most other table saws in this range.
DeWalt has built this power-tool for job sites, providing more than enough durability for home workshop conditions. Building materials include cast aluminum, high-impact plastics, and resins. The durability could make this a lifetime investment for your shop, and it will continue to serve you well as your skills grow.
Pros
It provides a 32.5-inch rip capacity. This is wider than many table saws in the same category.
You can use dado blades with it. This model has the power and torque to drive a dado stack.
DeWalt uses a high-torque electric motor on this table saw. It will not struggle or bog down.
Cons
This product does have a higher price tag. That may be an issue for first-time buyers or casual hobbyists.
The rolling stand is large. This can get in the way in a shop with limited space.
DeWalt DWE7485 8-1/4-Inch Table Saw
OVERVIEW
Another consideration from DeWalt is the DWE7485. It uses a smaller 8.25-inch blade instead of the larger 10-inch design. You will get 2 9/16 inch deep cuts at 90-degrees and 1 3/4 inch at 45-degree bevel adjustments.
It does use a 15-amp electric motor for power. This unit is not a high-torque design, so it would bog down when using a dado stack. You might experience some slowing if making maximum depth-of-cut on hardwoods as well.
The standout feature for this table saw is its portability. With a height of 13-inches and length of 22.75-inches, it should be easy to store away when not in use. That, along with a weight of only 46-pounds, makes it a good choice for small shops or construction sites.
DeWalt does not include a stand with this table saw. It does have a metal roll cage that provides extra durability. That added feature keeps it in good shape as it moves from place to place and also provides extra rigidity when you are using it.
Pros
This benchtop model is compact. It is lightweight and can be easy to store when not in use.
It comes at a lower price point. That can make it affordable for woodworkers on a budget.
The fence moves smoothly and is accurate. DeWalt's rank-and-pinion design allows for quick and efficient adjustments.
Cons
The blade is smaller. That will reduce the depth of cut, especially when making bevels.
It does not come with a stand. That can be an issue if you do not have room on the bench.
SKIL 5280-01 7.25-Inch Circular Saw
OVERVIEW
Skil's 5280-01 is a standard 7.25-inch bladed saw. That will provide a 2 3/8 inch depth of cut, cutting through most building materials in one pass. You may need to make multiple passes when cutting bevels, especially beyond the 45-degree range.
SKIL has included a single-beam laser with this saw. It will aid in keeping the blade on course as you cut. You should note that the beam is difficult to see in brighter shop light or direct sunlight, however.
A dust blower is located in the saw's housing. It aids with debris removal during the cut. That should help to prevent clogs in the exhaust port and boost the suction from underpowered shop vacs.
This circular saw is lightweight, coming in at just under seven pounds. Heavy power-tools can cause fatigue when used continuously. The SKIL 5280-01 will be easier to control with the lighter weight as well.
You will appreciate the natural hand position that the handle offers when you grip it. That provides ergonomic comfort and allows you to keep better control of the circular saw as it cuts.
Pros
A 15-amp motor drives the blade. The 2.5 HP it generates will allow you to cut through lumber quickly.
It provides a bevel angle up to 51-degrees. This should cover almost all hobby necessities.
It weighs only 6.95-pounds. You can notice this during longer running sessions.
Cons
The beam from the laser guide is difficult to see under daylight conditions. That makes this feature easily negated.
Its lightweight design uses thinner materials. This could shorten the longevity of this circular saw.
DeWalt DWE75SB 7.25-Inch Circular Saw
OVERVIEW
DeWalt makes this list again, this time with the DWE75SB circular saw. This 7.25-inch design uses a 15-amp patented motor, allowing it to cut through almost any wood species.
DeWalt includes an electric brake on the motor. That brings the blade to a fast stop once the power button is released. You will be surprised how much time this feature can save you during cutting sessions.
The saw weighs 8.8 pounds, making it mid-range for weight. The design uses quality components for durability. These provide tool longevity at the price of extra ounces of weight.
Those quality components include the base plate, which is made from higher-grade aluminum. It is very smooth and should slide effortlessly across the wood's surface. That wood grain will not be damaged by the plate, either.
The handle design provides a nice padded grip. This makes it comfortable to hold onto, and it will also dampen the vibrations generated from the blade as it cuts.
Pros
High-grade aluminum is used on the base plate. It should slide smoothly and not damage your wood.
The build materials make it very durable. DeWalt is known for professional-grade tools that can handle rough conditions.
Its carry case is large. That is a nice addition for storing accessories and traveling outside of the shop.
Cons
This product has a larger price tag than the SKIL. That could be a problem for budget-minded woodworkers.
It weighs more, coming in at 8.8-pounds. That is heavier than the SKIL, even though it is advertised as "lightweight."
Cutting Through The Confusion
The information provided above will help you decide between the table saw vs circular saw products for your shop.
You will need more room for a circular saw, but it will provide you with accuracy that a circular saw will struggle to match. The versatility of a table saw is also worth considering, especially with the accessories that can be purchased or made for it.
That said, a circular saw is a power tool that can be purchased on a tight budget. It has a wider cutting capacity and its mobility cannot be matched by a table saw.