Looking for a quick answer? DEWALT DCS570B is the best cordless circular saw you can buy. Keep reading to find out why.
Today's lifestyle demands speed and efficiency. Those demands find a way to creep into the workshop as well and that is why battery-powered tools are such a nice addition to anyone's toolkit.
Circular saws are a critical power tool for anyone working with wood. Cordless circular saws provide the added benefit of allowing you to take the tool wherever a cut needs to be made, so long as the battery is charged.
This article provides a buyer's guide that will help you choose the best cordless circular saw for your needs. We will review 10 of the best circular saws of 2023 so make sure you read to the very end.
Buying Guide
Sidewinder vs worm-drive
Your first decision will likely be between a sidewinder or worm-drive design. Worm-drive circular saws tend to cost more than a sidewinder. That usually favors sidewinder circular saws if you need to save money.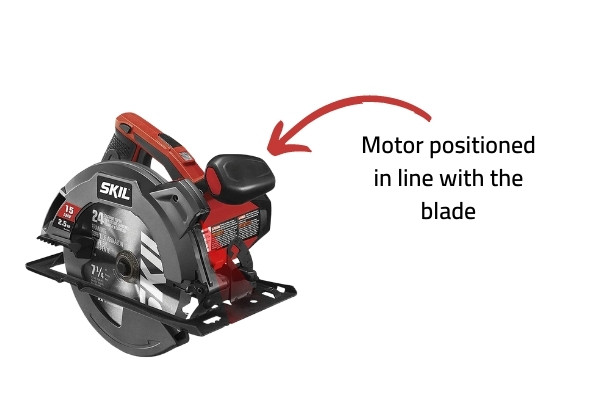 The worm gears weigh more than the spur gear components on a sidewinder. A worm-drive circular saw is also longer, as the electric motor sits behind the blade instead of resting alongside it. For you, that means a circular saw is easier to handle.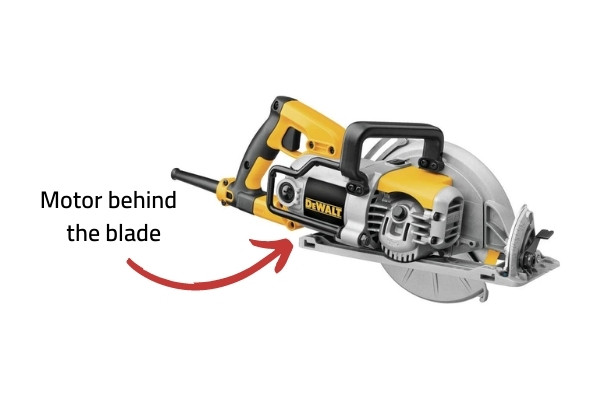 Sidewinders run at higher RPMs, which can increase feed rates. The worm drive runs slower but generates more torque. That torque might help when cutting near-maximum depth through hardwoods.
Sidewinder blades sit to the right, and worm-drive saw blades to the left. For most users, that partially obscures sightlines on sidewinders but keeps the tool's weight on the wood. Sightlines are more visible on worm-drive saws but shift the tool's weight on the scrap unless both sides of the cut are supported.
Blade size
Your next consideration will often be what size of circular saw blade do you need? These products list according to the saw blade size, so circular saws for woodworking will come in sizes that range from 6.25 to 12.0-inches.
The most popular circular saw blade size is 7.25-inches. Most products listed at this size will cut to a maximum depth of 2.5-inches when the blade sets to 90-degrees. Beveled cuts decrease the maximum depth to the bevel angle.
Most hobbyists begin their journey using milled woods and framing lumber, making a 7.25-inch circular saw a reasonable choice for their woodshop. If you are a DIYer who works with sheet goods and molding, you can even go with a 6.25-design. Professional carpenters will likely appreciate the cutting depth and versatility of a 10-inch saw blade or larger.
Ergonomics
Ergonomics is something that helps with comfort, control, and fatigue. It starts with the handle position and the trigger location. Well-designed handles place your hand in a natural position, with the trigger located for easy operation with your fingers.
Blade position on the left or right of the circular saw can improve sightline visuals or impede it. Guides and markings aids improve control, and high-visibility markings are easy on the eyes as you work.
Make sure you shop for comfortable grips that cushion vibrations. Quality products will include no-slip patterns for added safety also.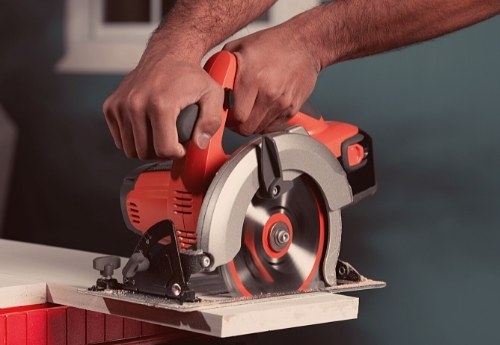 Voltage
Voltage ratings on a circular saw do two things. First, the voltage indicated on the power tool tells you the proper battery pack size for best performance. Second, voltage ratings give you an indication of the "power" that the battery pack provides.
Higher voltage translates to higher performance from your circular saw. A larger number will allow you to use larger-diameter saw blades. Higher voltages also cut through hardwoods more efficiently.
Voltage does not indicate how long your battery will last before it needs charging. Amp-hours are used to indicate that. The exception is the 20V MAX rating used nowadays, which advertises potential voltage with a maximum charge instead of the labeled 18-volt nominal power listed on a standard 18V battery.
Brushless electric motor
Traditional induction motors used on hand-held power tools include brush components. These items will wear out over time, requiring replacements.
A brushless electric motor does not use them. These tend to run cooler than regular induction motors, which potentially increases the overall lifespan. It also has fewer parts that break down and need replacing.
For most of the beginning woodworkers, either design will work. It never hurts to future-proof your cordless tool collection, though.
Dust collection port
Believe it or not, one of the most overlooked safety factors in home woodshops is dust collection. Breathing in wood dust can impact your health, and sawdust tends to collect all over. I was surprised to discover how much sawdust my circular saw created when I returned to woodworking a few years back.
Manufacturers know this, and several designs are available that try to mitigate sawdust. Minimal designs use blowers to keep sawdust from building up at the cutline. Dust containers and bags are a step up, but you will need to stop often to empty them.
I would suggest a shop vac attachment design. Attaching the shop vac hose provides increased movement and collects debris in your vacuum canister. Many products are available with ports, and you can buy an adaptor kit if your shop vac does not match the circular saw hose port.
Safety features
A non-slip grip keeps you firmly in control of the tool, and safety triggers prevent accidental starts. Electric blade brakes stop rotations as soon as you let up on the trigger.
Adjustments need to lock securely to prevent the blade from dropping or the bevel angle rocking during the cut.
Other utility features
Most products provide bevel adjustments, so make sure the model you are looking at provides at least a 45-degree angle for beveling.
Circular saws are rough-cutting tools, so micro-adjustments on blade depth are not critical. You do want one that is easy to set, and markings indicating depth are beneficial.
Laser guides help to track cuts, especially for beginners. A work light also helps everybody when working in low-light conditions.
Best Cordless Circular Saws:
1. Best For The Money: DeWalt DCS570B
On Sale
Power - Brushless motor of DEWALT 7 1/4 circular saw provides 5500RPM maintaining speed under load
Runtime - The cordless circular saw provides 330 crosscuts in 2x4 (pine)
Capacity - 7-1/4-inch blade of the compact circular saw provides 2-9/16-inch cutting capacity at 90 degrees
A standard tool-only purchase, the DCS570B is a 7.25-inch design. It measures roughly 11.0 inches L x 8.0 inches W x 10 inches H and weighs 7.5 pounds. That is standard for this class of cordless circular saw, especially with the slide-in battery pack design.
The "XR" indicates that this tool uses a brushless electric motor. That motor generates up to 5.500 RPMs. You can adjust to a maximum cutting depth of 2.563 inches when the blade rests at 90-degrees or 2.0 inches at a 45-degree setting.
Speaking of bevel angles, a stand-out on this circular saw is its 57-degree bevel setting. That is more than enough for most woodworking projects, including those beginners will tackle.
2. Milwaukee 2830-20
The Milwaukee 2830-20 comes as a bare tool purchase that measures roughly 21.1 inches L x 9.37 inches W x 9.25 inches H and weighs just over 10 pounds. It is bulkier than other sidewinder circular saw designs due to the position of the handle, which sits at the back of the saw instead of riding on top.
You can tell this product is intended for job site use, as the build is durable and the ergonomics are minimal. Its performance increases due to the M18 FUEL battery platform that allows long-running between charges.
Right-handed operators will enjoy the improved cutline visibility with the saw blade sitting to the left. The brushless electric motor creates 5,800 RPMs for faster cutting, and you might appreciate the added work light.
3. Craftsman CMCS550B
On Sale
UP TO 75% MORE POWER: Brushless motor offers long life and increased power for the compact circular saw
SEE CLEARLY: LED of the cordless circular saw illuminates the cutting line and worksurface
MAXIMUM BEVEL: 56 degrees with positive stops at 22.5 and 45
The 7.25-inch cordless circular saw ships at 14.65 inches L x 9.61 inches W x 8.5 inches H and weighing 9.38 pounds. That should assemble into a standard-sized product in this class with a slightly thinner footprint. You should notice that it feels somewhat lighter than others, thanks to the thin materials used for its base plate.
Craftsman powers the CMCS550B with its 20V MAX battery platform. It generates only 4,700 RPMs with the brushless motor, but that is an adequate speed for that size of a circular saw blade.
Bevel adjustments can reach 56-degrees, which is more than enough for a beginner. It has positive stops at 22.5 and 45-degrees, which are commonly used angles for simple projects.
4. Best Cordless Worm Drive Saw: SKILSAW SPTH77M-11
On Sale
The first and only cordless Worm Drive saw gives you legendary SKIL power to go anywhere
Jobsite durability and performance from magnesium construction, brushless motor, and electric brake
The convenience of a cordless saw without compromising any Worm Drive power or performance
The price you pay for this circular saw gets you a tool that measures 18.23 inches L x 7.52 inches W x 8.66 inches H and weighs 11.09 pounds. That is rather cumbersome compared to other cordless products on the list, but there are reasons for that.
For starters, the housing uses magnesium and other metals to create a circular saw that will last. Adding worm-gear components and a rear-sitting handle also adds to the power tool's bulk.
A 48-volt battery drives the saw blade, and that power is needed if you want to take advantage of the increased torque. Luckily, SKIL includes a battery and charger. You can completely charge the battery pack in an hour.
5. DEWALT DC390B
3,700 RPM for fast rip cuts and cross cuts
6-1/2-inch carbide tipped blade for 2x cutting capacity at 90 degrees and 45 degrees
High strength magnesium shoe and upper guard provides increased durability
OVERVIEW
Those who know me are aware of how much I like good customer service, and DeWALT offers some of the best in the business. They provide clear paperwork with the purchase. You are provided with one of the better warranties on power tools and can register online or through the mail.
The company has a strong presence online with additional phone support as well as certified dealers and repair shops across North America.
6. Makita XSS02Z
On Sale
Makita built motor delivers 3, 700 RPM for faster cutting and ripping through wood
Heavy gauge, precision machined base for smooth, accurate cutting and added durability
50 degree maximum bevel cutting capacity
OVERVIEW
This 6.5-inch cordless circular saw offers plenty of control for the operator. That control starts with the compact design and blade that is located to the left of the housing. Right-handed users will be able to see the cutline clearly.
It weighs only 7.3 pounds, a feature that will be appreciated if the saw is used for long periods of time to make repeated cuts.
It has an extremely smooth base plate. That will allow for very accurate registration between the saw and the wood's surface. It also lets the plate move with less friction than a rougher casting can glide
7. Milwaukee M18 2630-20
Volts DC: 18
Type: Bare Tool, Circular Saw
OVERVIEW
The design of this circular saw's handle helps to provide both comfort and control. It is angled above the housing at a position that will allow you to naturally grip the handle in a working position. That will help reduce wear on your joints and help prevent your hand from cramping if you plan on making lots of cuts.
The soft-grip handle makes this circular saw easy to hold. The padding covers the majority of the handle, leaving only the trigger area uncovered. That padding also helps to reduce the transmission of vibrations generated by the motor as well as from the blade during cuts;
8. BLACK+DECKER BDCCS20C
VERSATILE 5-1/2 IN. BLADE – Fast-cutting blade is ideal for a range of DIY tasks.
VARIABLE-SPEED TRIGGER – For enhanced control over every job.
ANGLED CUTS – Bevel detents at 45 and 90 degrees for angled cuts.
OVERVIEW
This 5.5-inch circular saw is powered by a high torque motor. The higher torque ratio means that you will get more power through the cut than you would for a similar-sized product. The higher torque also means less spin, which usually helps to extend the life of your power tools.
9. PORTER-CABLE PCC660B
High-performance motor of DEWALT 7 1/4 circular saw delivers 4000 RPM's for aggressive cutting
6-1/2-inch carbide tooth blade of the cordless circular saw delivers a 2-1/8' cutting capacity for a variety of cutting applications
Beveling shoe of the compact circular saw piviots up to 50 degrees for non-traditional cutting applications
OVERVIEW
PORTER-CABLE has designed this cordless saw to be operated from almost directly overhead. This is due to the handle position that is placed higher on the housing than what is seen on other circular saws. This position can help you to use your body to keep the saw moving correctly with longer cuts through things like plywood sheets.
10. Ryobi One P505
On Sale
GRIPZONE OVERMOLD: The handles of this power tool are lined with a rubber mold. This increases friction between your hands and the tool, improving handling in most conditions
TRANSPARENT LOWER GUARD: The polyurethane blade guard is clear, so you can get maximum visibility on your work while you make your cuts
ADJUSTABLE BEVEL: You can adjust the foot of this cordless circular saw up to 50 degrees to cut at a variety of angles for different applications
OVERVIEW
This is a circular saw designed for light-duty and smaller projects, including molding and panel work. Its 5.5-inch blade can move at 4,700 RPMs maximum without load. A weight of fewer than five pounds makes it easy to control as you make cuts anywhere that the saw will fit.
Who Needs a Cordless Circular Saw?
If my late grandfather were around today he would say everyone needs one of these power tools. I recall his corded circular saw being brought out for almost every project he made in his shop, and a circular saw was one of the first purchases I made when I started on my woodworking journey.
A battery-powered circular saw would be one of my first purchases today if I was just starting out. There are times that a DIY homeowner, construction worker, or even a woodworker needs to take their tool to the work instead of the work to the tool. Battery power offers even more range as you are not limited by an outlet location or the length of the power cord that you have.
Construction workers will find cuts that they need to make that can not be brought to a miter or table saw. Homeowners could find themselves needing a power tool to cut through the wood planks on the backyard deck they are building.
In the shop, woodworkers may need to cut larger pieces for furniture that are too large to control on a table saw. A circular saw is also great for breaking down panels into a more manageable size.
Battery Powered Cutting
The stand out feature, for both the good as well as the not-so-good, on a battery-powered circular saw will be the battery system.
Today's battery of choice in the market is the lithium-ion battery. These batteries are able to generate the most power with less material.
Those who have worked with cordless power tools for years can attest to how much smaller and lighter the batteries are as well as how much more power they provide over other platforms used in the last part of the 20th century and the first decade of the 21st.
Lithium-ion battery packs can also handle being charged over and over without degrading. Modern battery pack designs are able to be charged quickly and they can provide power for longer periods of time.
A note about voltage
Most rechargeable circular saws run on battery platforms in the 18 to the 20-volt range. You should note that the 20-volt batteries usually indicate the number as its maximum rating.
Those batteries actually run nominally at 18-volts. Most 18-volt products simply list the nominal rating and are, therefore, running nominally at 18-volts.
Kit vs Tool Only
Another thing to keep in mind when you are researching battery operated circular saws is how they are packaged.
Products that come as a kit will include at least one battery (if not two) and a charger. They are fit into a hard case or tote bag and may include extra accessories with the purchase.
Items sold as "tool only" do not include accessories of carrying cases. In fact, they do not include a battery or charger (which needs to be purchased separately).
Many manufacturers sell tools this way as they offer various cordless power tools that share the same battery platform. This allows customers to share batteries between their cordless tools, which can actually save them money if they buy other power tools from the manufacturer with the same voltage requirements.
Which One Runs Circles Around The Others?
I thought that all products were adequate for specific reasons, but the DeWalt DCS570B is my recommendation. The cordless saw has DeWalt's 90-day satisfaction guarantee, one year of free service, and a three-year limited warranty. It can be purchased online or at several stores in person.
You get a 7.25-inch design that runs on the 20V MAX battery platform. Add to that a brushless motor that runs better with fewer potential breakdowns.
While I would prefer a bar instead of a knob on the secondary handle, the design is ergonomic. A standard size and weight, along with easy-to-use controls, make for a good beginner power tool. If you are in the market for a cordless circular saw, give it a closer look!
Didn't find a tool that is a good fit for you? Read my other guides also:
Best circular saws overall
Best compact circular saws
Best worm-drive circular saws