When it comes to cutting in your woodshop, deciding between the table saw vs miter saw is the difference between something that improves your woodworking experience vs something that does not.
What follows is a comparison between these tools so that you can save time and money while avoiding frustration. We'll finish with some options that might fit your needs.
Table Saw or Miter Saw? Things To Consider
Cutting into the table saw
This power-tool uses a circular blade that spins on an arbor. These components sit under the table surface. You can adjust the blade's height and use a fence and miter gauge to produce straight cuts.
Some of the things you can do with a table saw
Table saws allow you to make these types of cuts:
Rip cuts: Cutting parallel to the grain
Crosscuts: Cutting across the grain
Bevel cuts: Cutting an angle along the edge of the wood
Joinery: Creating dados, grooves, rabbets, as well as other joinery
Specialized cuts: Things like kerf cuts that allow you to bend wood
Types of table saws
Not all table saws are the same. You will encounter these types when shopping for a table saw for your workshop:
Benchtop: The cheapest design that most woodworkers begin with
Jobsite: Larger and more robust than a benchtop model
Contractor: The largest motor and capacity on portable designs
Hybrid: Cabinet-style saw with contractor saw features
Cabinet: Largest tables requiring a dedicated space
Benchtop and Jobsite models are the table saw of choice if you need to move and store them when not in use. The contractor and hybrid designs are less mobile, but they do generate more power. Cabinet table saws offer the best features and material support, but they are expensive and immobile.
Who should buy a table saw? Who should not?
It is a good option if you require accuracy, especially with rip cuts. Longer boards and panels can also be cut. Jigs and sleds aid in making cuts or joinery.
If you make smaller projects, they may not exploit the table saw's features.
Pros
Rip cuts
Larger material
Accuracy
Cutting into the miter saw
The miter saw also uses a circular blade that spins on an arbor. The blade is mounted vertically above a smaller support surface. You cut by pulling the saw down onto the wood.
Some of the things you can do with a miter saw
A good miter saw was one of the first power-tools I bought when I started woodworking. I still use one when I need to cut boards to a similar length or repeat ends cuts. These saws a great for:
Crosscuts: Cutting across the grain
Bevel cuts: Cutting an angle along the edge of the wood
Miter cuts: Cutting an angle across the face of a board
Compound cuts: Some models can cut bevels and miters at the same time
Types of miter saws
There are fewer options among miter saw designs, but the available ones include:
Standard: Cuts miters on edges
Compound: Blade tilt for bevel cuts
Sliding: Arm extension for more range
The standard miter saw is the entry-level for features and price, making it a good option for novice and intermediate woodworkers. Adding the bevel capabilities of the compound miter saw costs more, but adds versatility to your machine. A sliding miter saw costs more than the others, but it will allow you to work with wider boards.
Who should contemplate a miter saw? Who should not?
Anyone modifying their homes or shops will benefit from using it. If you make repeated cross, bevel, or miter cuts on the end of boards, it will help.
However, shops that use wide panels or sheet goods in projects may find it limited.
Pros
Accurate end cuts
faster workflow
Less expensive
Cons
Limited width capacity
Less versatility
Table Saw vs Miter Saw: Options For Your Shop
DeWalt DWE7491RS 10-Inch Table Saw
OVERVIEW
An important feature to look for on a table saw is rip capacity. This table saw offers 32.5-inches to the right of the blade and 22.0-inches to the left. You will be able to rip panels, like the standard four by eight sheets, with room to spare.
The blade has a maximum cutting depth of 3 1/8-inches, which should cover most building materials that hobbyists use in their shop. Its 10-inch blade can cut to a depth of 2 1/4-inches when placed at a 45-degree angle.
Another feature found on the DeWalt DWE7491RS is the 5/8-inch arbor. The table saw is designed to accept dado blades up to 13/16-inch. Many table saws in this range lack the power and design to handle a dado stack.
One reason this table saw can handle the power requirements for cutting dados is its high-torque motor. The 15-amp electric motor can generate 4,800 RPMs under no-load conditions. That will allow you to cut through hardwoods at maximum depths without bogging down with a proper feed rate.
Pros
It has a 32.5-inch rip capacity. This allows you to trim wider boards and panels.
Employs a 15-amp high-torque motor. The extra torque keeps the blade running efficiently through cuts.
Includes a rolling stand. This makes it highly mobile and is easy to set up and take down.
Cons
A larger price tag. You will need to shell out more money for the DWE7491RS features.
The wheels can be in the way. You have to reach around or over the wheels as you feed smaller boards.
DeWalt DWE7485 8 1/4-Inch Table Saw
OVERVIEW
Smaller shop conditions will require a table saw that is easy to move and to store when it is not in use. The DeWalt DWE7485 measures 26.7 x 14.1 x 27.2-inches and weighs only 46 pounds. That makes it easy to store on a shelf or cabinet, and you can move it by yourself.
The 8 1/4 inch blade can cut up to 2 9/16-inches deep. That will allow you to go through most projects with one pass. The 1 3/4 inch cut at 45-degrees may require more than one pass to make it through thicker materials.
It offers a rip capacity of 24.5-inches to the right of the blade. You can break down four by eight sheets with this table saw. The rip capacity to the left of the blade is 12 inches.
The standard 15-amp electric motor is not designed for high-torque applications like a dado set, but it does generate up to 5,800 RPMs under no-load conditions. That can match up well with speeds for specialty blades.
Pros
The build is durable. It is designed for construction site conditions.
It is easy to move around. The table saw is small and does not weigh a lot.
Has a much lower price point than the DeWalt DWE7491RS. This will make a table saw affordable for most woodworkers.
Cons
This table saw does not include a rolling stand. The benchtop design is bolted to your bench or mounted on a separate pedestal.
It does not have the capacity of the DeWalt DWE7491RS. The blade will not cut as deep, and the rip capacity is smaller.
DeWalt DWS779 12-Inch Compound Sliding Miter Saw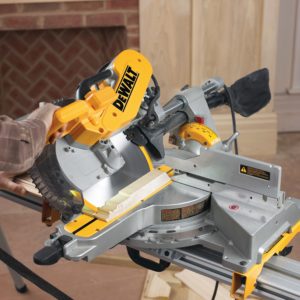 Learn More: DWS779 vs DWS780 Review
OVERVIEW
DeWalt is known for its professional-grade tools, and the DW779 is no exception. Cast aluminum, high-impact plastics, and resins make up the majority of components on this miter saw. That durability will keep this saw running in your shop for years, making it a long-term investment.
A 15-amp electric motor produces up to 3,800 RPMs. That is plenty of rotation for making cuts across the wood grain. It should cut without bogging down, and a proper cutting rate should eliminate most burns.
The angle adjustments on the miter are easy to use. A thumb-controlled cam lock keeps the angle set once in place with no drift. DeWalt has calibrated the saw before shipping, so it should offer true angles for the blade as well as the fence.
Another benefit that DeWalt tools provide is customer support. You have a 90-day money-back guarantee and one year of free service at any of the many certified service centers across North America. This miter saw is covered by a three-year limited warranty.
Pros
It has maximum cutting thickness of 6.75-inches. That is deeper than smaller blades can reach.
The miter handle uses a cam lock. This design is easy to operate and holds well during the cut.
Dust collection is designed well. It can capture up to 75-percent of the debris it generates.
Cons
The debris bag is small. This accessory seems like a gimmick because it fills so quickly.
It may become harder to find. Black & Decker may re-package this 12-inch model under another subsidiary.
Metabo HPT C10FCGS 10-Inch Compound Miter Saw
OVERVIEW
Metabo HPT is the rebranding name for the former Hitachi tools in North America (the reason for the familiar green on the miter saw). This 10-inch model makes a great budget miter saw, thanks to the lower price point. It fits into most home and small shop budgets.
It offers a bevel range of up to 45-degrees while allowing you to cut miters ranging up to 52-degrees to the left or right of the saw blade. That will make a wide range of bevel, compound, or miter cuts. You will also appreciate the range no matter which hand you use for control.
A stand out feature on this design is also the weight. This miter saw weighs only 24.5-pounds. That makes it easy to move around in small shops or traveling between job sites.
Metabo offers a five-year limited warranty on this miter saw, but you should note that other customer service benefits may not be as comprehensive as DeWalt's.
Pros
It comes at a lower price. You will pay a lot less for this when compared to the price tag on the DeWalt mentioned previously.
You can cut wider miter angles. The maximum offered on this power-tool is 52-degrees.
There are several positive stops on the table. These are set at the most often used angles for faster setups.
Cons
The table used for material support is smaller. This could be an issue on wider boards but not on typical building lumber.
Debris collection is less effective than on the DeWalt miter saw. This design collects approximately 25-percent less debris.
The final cut: a table saw or a miter saw?
Your personal preferences and the needs of your shop will determine which saw you need between a table saw vs miter saw.
A table saw is more versatile than a miter saw. Table saws are limited to the material you can feed through them. A miter saw has a limited range, especially if it is not a sliding miter saw design.
That being said, a miter saw is a great choice if you work with a lot of building materials, such as framing timber. It makes repeated cuts on the end of boards cleanly and quickly.
Remember, you will need less room for making crosscuts with a miter saw. Rip cutting boards and panels with a table saw requires more room. Finally, storage and mobility often favor miter saws.